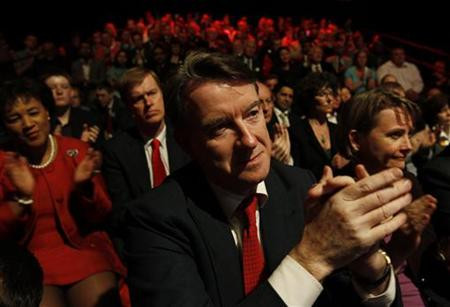 Both Tony Blair and Nick Clegg urged the former Prime Minister Gordon Brown to resign during the secretive negotiations that took place between Britain's three main political parties in the aftermath of the general election held earlier this year, according to Peter Mandelson's memoirs.
Lord Mandelson's book "The Third Man" is currently being serialised in the Times and is a tell all story of life at the heart of New Labour during the rule of both Tony Blair and Gordon Brown.
The memoirs, which have been criticised by leading Labour figures for reviving and revealing all the infighting of the Blair-Brown years, claim that Liberal Democrat leader Nick Clegg held a secret meeting with Gordon Brown on the Sunday night following the election.
During the meeting Mr Clegg is said to have told Mr Brown, "Please understand I have no personal animosity whatsoever... but it is not possible to secure the legitimacy of a coalition and win a referendum unless you move on in a dignified way."
While Mr Brown did not give an answer to Mr Clegg, shortly after the meeting he informed the Queen that he would be standing down as Prime Minister. A spokeswoman for Mr Clegg has confirmed the claim.
Mr Brown's hopes for holding on to power were further dashed by his predecessor and arch-rival Tony Blair who told him that given the election result it would be unacceptable to the British people for him to remain as Prime Minister.
Lord Mandelson says in the book that the Blair-Brown conflict was "very destructive" and seems to suggest that it is still ongoing as Blairites (David Miliband and Andy Burhham) take on Brownites (Ed Miliband and Ed Balls) in the ongoing Labour leadership battle.