Clint Dempsey is attempting to force through a move to Liverpool after being fined for refusing to play for Fulham against Norwich City this weekend.
The Reds have made no secret of the fact they would like to sign the American midfielder; incorrectly publishing a story on the website of their owners Fenway Sports Group claiming the club had signed Dempsey.
Fulham have since reacted angrily to the error, with manager Martin Jol disappointed that the mistake was not followed up by a bid for Dempsey, who scored 23 goals in all competitions last season.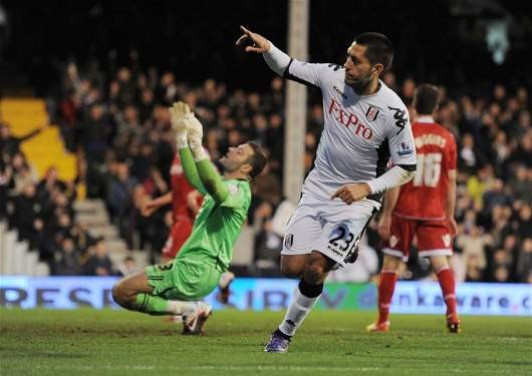 "If we get the right price for Clint we will sell him. If not, he will stay," Jol told a pre-match press conference.
"I would like to keep him, but I think it's impossible. It's a sad and an almost embarrassing situation.
On the incorrectly published story back in July, Jol added: "That was very disappointing.
"There was never an offer. Clint himself told everyone he was going to Liverpool before he came back so we really thought there was quite a firm interest in him.
"Even [Rodgers] told everyone he was interested in Clint Dempsey, but our people never had an offer on the table, so it's almost embarrassing.
"If you have shown interest in a player, especially in England, you have to follow it up with an offer. They didn't.
"I can assure you that our chairman is strong enough. At first we didn't want to get rid of him, later on we had to change our position.
"But our view is that we won't let Clint Dempsey go on the cheap, that's for sure.
"He [Dempsey] told me 'you know what I want to happen' and at that time it was to go to Liverpool. I told our people that we had to listen to other clubs, but there was no other club. There have been no firm offers for Clint.
"Clint feels he needs a move and that move was probably Liverpool, but Liverpool bought new players and no Clint, so we have ended up with a situation with Clint here at Fulham, but he is not committed to the club."
Last month manager Brendan Rodgers told the Liverpool website he would like to sign Dempsey and that managing director Ian Ayre was taking care of any transfer business.
"Clint is a player we've enquired about, it is as simple as that," Rodgers said in July.
"Ian Ayre, our managing director, has spoken with the club to see what the position is. That is where we're at.
"He's a very talented player but we don't like to talk about other clubs' players."
The confusion over the 29 year old's future has now been accentuated by his refusal to play for The Whites in their opening Premier League match of the season and beyond, to seemingly consign his career at Craven Cottage to history.
The west Londoners are obligated to fine the player following his refusal to feature against Norwich on Saturday, and mirrors the punishment Carlos Tevez received for refusing to warm-up during Manchester City's Champions League match against Bayern Munich.