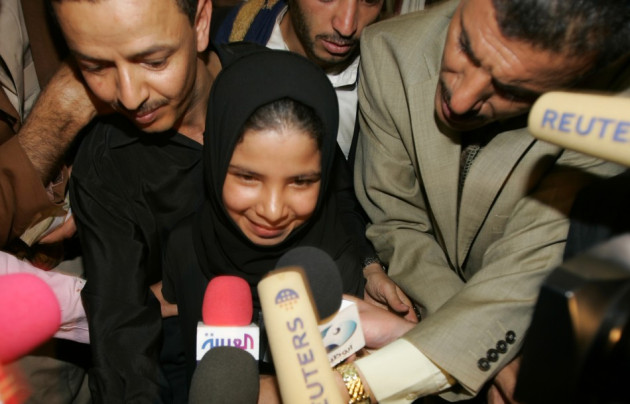 Human Rights Watch has called on Yemen's government to ban child marriages, claiming it threatens girls' access to education, harms their health and keeps them second-class citizens.
"Yemen's political crisis has left issues such as child marriage at the bottom of the political priority list," said Nadya Khalife, a women's rights researcher for the Middle East and North Africa at Human Rights Watch. "But now is the time to move on this issue, setting the minimum age for marriage at 18, to ensure that girls and women who played a major role in Yemen's protest movement will also contribute to shaping Yemen's future."
In 2008, the case of Nujood Muhammed Nasser made headlines across the world when she was granted a divorce from her 30-year-old husband after being forced into marriage by her father two years earlier at the age of eight.
According to report by the human rights organisation, around 14 per cent of girls in Yemen are married before 15 and 52 per cent are married before the age of 18. The country has no minimum legal age allowing girls to marry. The report is based on field research in Sanaa, Yemen's capital, between August and September 2010, including interviews with more than 20 girls and women.
Meanwhile, Yemen Vice President Abdu Rabbo Mansoor Hadi has announced a new coalition government, which will lead the country following the resignation of president Ali Abdullah Saleh last month.
In a move towards national reconciliation, the government has already released Hassan Baoun, a prominent leader of the southern secessionist movement, along with his son. The two men were jailed in February while taking part in an anti-government rally in the city of Aden.
"My father and brother Fawaz were both released in Sanaa," Fadi Baoun, another son of the southern opposition leader, told the independent news website Bikya Masr.
Hassan Baoun had been on a government black list for years after he advocated independence for South Yemen.
Navi Pillay, the UN High Commissioner for Human Rights, has condemned all Yemeni factions after reporting that 22 people have been killed by snipers in the city of Taiz since the beginning of December.
After months of protests calling for his departure, the former Yemeni president arrived in the Saudi Arabian capital of Riyadh at the end of November to sign a transfer deal, which would see his deputy, Abdrabuh Mansur Hadi, take power ahead of early elections.