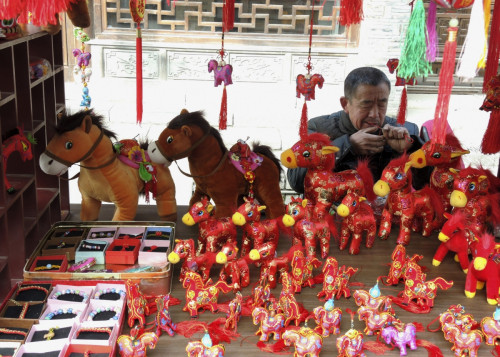 Chinese New Year 2014 kicks off on 31 January this year and to celebrate, one of Asia's largest independent brokerage and investment groups, CLSA has revealed whether your zodiac sign will mean big bucks for you.
According to the CLSA Feng Shui Index 2014, a tongue-in-cheek financial forecast for the coming Year of the Wood Horse, those who were born in the year of the Tiger, Sheep (Goat) and Dog will find it a particularly stellar year for trading and their wallet size.
However, those that may be in for a more challenging ride are Rats, Cows and Rabbits.
The index began as a Chinese New Year card for CLSA's clients in 1992 with a simple summary of forecasts by a group of feng shui masters and a few views of our own.
The group said, to flesh it out, it also predicted the performance of Hong Kong's Hang Seng Index based on the omens.
"No one paid much attention to the contrarian chart, but by year's end it had correctly called all seven of the Hang Seng's major turns," said the group.
"Now renowned by investors globally, the CLSA Feng Shui Index took a break during the bull run from 2005 to 2008. Much missed, it was revived in 2009."
According to the index this year, 2014 will mark a key year for the Hang Seng index as it is predicted to hit 28,105 as the group had "uncovered so many unexpected connections, coincidences and links between the HSI and this Wood Horse that we discern a definite Casablanca connection - 'the beginning of a beautiful friendship'."
It says that, traditionally, the vital force or energy known as qi is considered to be spent or stale half-way through a cycle - the Horse heralds the arrival of the so-called second wind - a burst of invigorating fresh qi.
CLSA even pledged to let you know the fates of some famous faces, such as incomingUS Federal Reserve chairman Janet Yellen, Japan's Shinzo Abe, Alibaba's Jack Ma Yun, in its monthly update of the index.