Banks, pension funds, and other financial institutions have invested over $24bn into companies that produce cluster bombs, which are the types of weapons that were recently used to massacre Syrian civilians.
According to a report by Dutch group IKV Pax Christi, entitled Worldwide Investments in Cluster Munitions: a Shared Responsibility, 139 financial institutions around the world have invested billions of dollars in cluster munition producers since June 2010.
The group listed the Royal Bank of Scotland, UBS, Deutsche Bank, and Goldman Sachs among the its 'Hall of Shame'.
For example, the report said that in October 2010, Alliant Techsystems secured a $1bn five-year credit facility, comprising a $600m revolver and a $400m term loan.
The proceeds were used for refinancing, to increase working capital and to finance capital expenditures and acquisitions. RBS was part of the 20-bank syndicate and provided $80m.
In September 2010, Alliant Techsystems issued ten-year bonds for $350m. The proceeds were used for general corporate purposes and to reduce indebtedness. RBS, part of the seven-bank syndicate, underwrote $73.7m.
Cluster bombs release many small bomblets over a wide area causing indiscriminate damage. They pose risks to civilians both during attacks and afterwards.
IKV Pax Christi, part of Cluster Munition Coalition, said that it is hoping to encourage governments to introduce legislation to ban investment in companies that produce cluster munitions.
"Syria's use of cluster munitions should be a wake-up call for governments and financial institutions of the severe and real consequences of this indiscriminate weapon" said Amy Little, Campaign Manager at the Cluster Munition Coalition.
"We are calling on governments to cement their commitment against cluster munitions. The only way to prevent money going to producers of this abhorrent weapon for good is to install legislation banning all investments in cluster munition producers."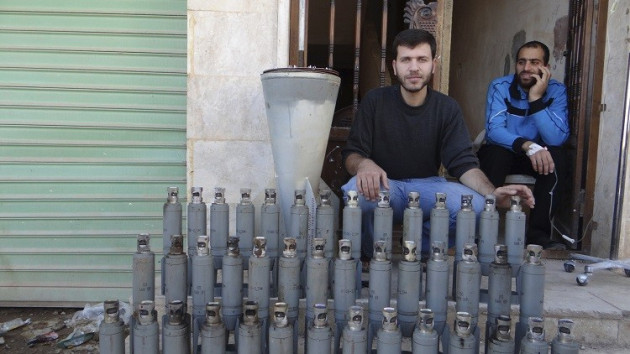 The majority of these investments come from financial institutions in states that have not yet joined the Convention on Cluster Munitions.
The report's 'Hall of Shame' includes 22 financial institutions from six countries that are part of the 2008 Convention on Cluster Munitions: Canada, France, Germany, Japan, Switzerland and the United Kingdom.
Syria has not joined the 2008 Convention on Cluster Munitions.
Nearly 126,000 Syrians died in the civil war this year with many being slaughtered by cluster munitions.
States that have joined the Convention on Cluster Munitions have committed themselves to never produce cluster bombs and also never to assist, encourage or induce anyone else to do so.
While a growing group of States Parties to the Convention have enacted national laws that prohibit public or private financial institutions from providing such assistance, others have not yet taken this step.
However, since 2012, four new states have adopted legislation that prohibits investments in cluster munitions; Liechtenstein, the Netherlands, Samoa and Switzerland) bringing the total number of countries with an investment ban to nine.