The Co-operative Bank has failed the Bank of England's benchmark "stress test" which is designed to see if the country's lenders can withstand another financial crisis.
The BoE revealed that the embattled Co-op would not be able to cope with a range of economically severe factors, such as a 35% fall in house prices and a 30% drop in the value of the pound.
"The stress test completes our capital framework by informing judgments about the appropriate size of capital buffers for individual firms and for the system as a whole. It is a major component of both our macro- and micro-prudential regimes," said Mark Carney, Governor of the BoE.
"As a joint exercise between the Prudential Regulation Authority and Financial Policy Committee (FPC), it demonstrates the major synergies possible across the Bank of England.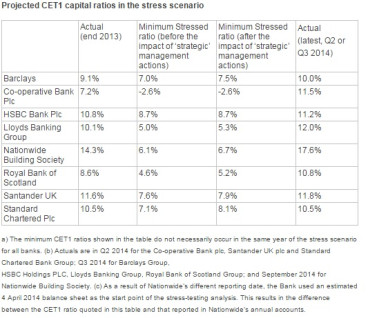 "This was a demanding test. The results show that the core of the banking system is significantly more resilient, that it has the strength to continue to serve the real economy even in a severe stress, and that the growing confidence in the system is merited."
The BoE assesses of the outlook for the stability and resilience of the financial sector by looking at how much common equity tier (CET), the bank's core equity capital compared with its total risk-weighted assets.
RBS, Lloyds and others
Other parts of the stress test include making sure banks are able to withstand a 12% rise in unemployment, GDP falling 3.5%, shares crashing by 30% and bank rates rising to 4.2%.
Part state owned firms Lloyds Banking Group and Royal Bank of Scotland were found to be "at risk" in the event of a "severe economic downturn". Five other major banks - Barclays Bank, HSBC Bank, Nationwide Building Society, Santander UK and Standard Chartered - were said to have passed the test.
"We have made good progress during 2014 in both strengthening our capital ratios and reducing higher risk exposures. However, we recognise that there is still much work to be done to improve the resilience of our balance sheet," said Ewen Stevenson, chief financial officer at RBS.
"Having regard for further potential conduct and litigation settlements and redress, we remain on track to reach our CET1 capital ratio targets of 11% by end 2015 and at least 12% by end 2016."