It was exactly 1,000 days ago that the United States started its bombing campaign against Isis in Iraq and Syria.
Now, more than 32 months after two FA-18 aircrafts dropped 500-pound laser-guided bombs in Erbil in Iraqi Kurdistan on 8 August 2014, 12 other nations have joined the campaign to wipe out the extremist network and its hopes of building an Islamic caliphate.
In that time, it is estimated that Isis have lost over 70% of its territory in both countries, but at what human cost has the battle to defeat the terror group come?
The coalition – under the banner Operation Inherent Resolve – has so far admitted to just over 350 deaths, but independent war-monitoring group Airwars puts that figure at roughly 10 times that amount.
In its monitoring of the campaign, the London-based organisation has recorded over 3,200 civilian deaths in Iraq and Syria believed to be caused by coalition airstrikes and has named over 1,400 of those victims.
Chris Woods, director of Airwars, said the 1,000-day mark is a useful point in time to consider the past and the future of the bombing campaign.
"This long, grinding war has seen so-called Islamic State routed from much of its territory and we are perhaps now entering the final stage," he said.
"Yet the cost to civilians in both Iraq and Syria grows steadily worse, with thousands so far killed.
A never-ending conflict?
"This 1,000th day of the campaign offers an opportunity for reflection on what has been achieved – and at what cost."
Airwars grades its reports of civilian casualties in terms of strength of reporting and only includes death tolls where incidents are "fairly" reported. It says the true number of civilians dead is likely to be far greater than 3,200.
In terms of displacement, an estimated 6.3 million people have been internally displaced inside Syria with more than five million have fled abroad as refugees, according to the United Nation's Office for the Coordination of Humanitarian Affairs (OCHA).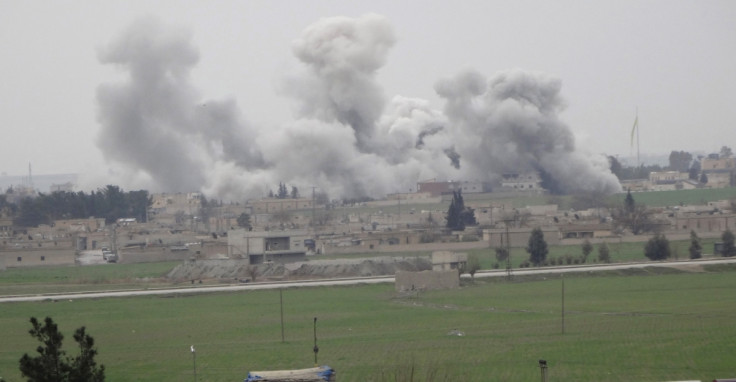 In Iraq, the number of displaced is estimated to be over five million, according to the International Organisation for Migration (IOM).
In a piece marking the 1,000-day point of the strikes, Chris Kolenda, a senior military fellow at King's College London, told Airwars that the campaign needs to be reflected upon or risks becoming a never-ending conflict.
"Because there appears to be no strategy in place which integrates the political and diplomatic challenges and how military forces support those desired political and diplomatic outcomes, then we are at high risk of essentially fighting one of these never-ending conflicts," he said.
"Even if Isis is defeated, have we just set conditions for the next insurgency?
"Or have we even set conditions for the US and UK to no longer be relevant actors in Iraq and Syria, because we have so lost the political and diplomatic contest and neither country is welcome [in Iraq and Syria] anymore?"