The battle against Isis in western Mosul should be over in May, Iraqi army's chief of staff said on Sunday (30 April) amid two fresh militant attacks on army positions that killed at least 20 security personnel.
The Iraqi army estimates that only up to 300 militants remain in the city, most of whom are foreign fighters. There were nearly 6,000 militants at the start of the west Mosul offensive in February. The eastern side of the city was liberated in late January.
On Sunday, Lieutenant General Othman al-Ghanmi was first quoted by state-run newspaper al-Sabah as saying that despite strong resistance from the Islamist militants, the city should be liberated "in a maximum of three weeks". Later, the Iraqi defence ministry announced that an estimated 35% of western Mosul was still being held by the Islamist militant group, while the remaining part was already under the government's control. The announcement came a day after the Iraqi forces liberated the ancient city of Hatra in Ninawa Governorate.
Defence Minister Erfan al-Hiyali added that life in east Mosul had returned to normal, with Iraqi troops doing their best to secure the citizens and their properties in the liberated neighbourhoods.
Separately, the Iraqi military said on Sunday that the militant group launched two attacks during the day – one on Shia paramilitary forces northwest of Mosul and the other on an Iraqi army position in Akashat near the Syrian border – an area where Isis leader Abu Bakr al-Baghdadi is believed to be hiding, Iraqi News reported.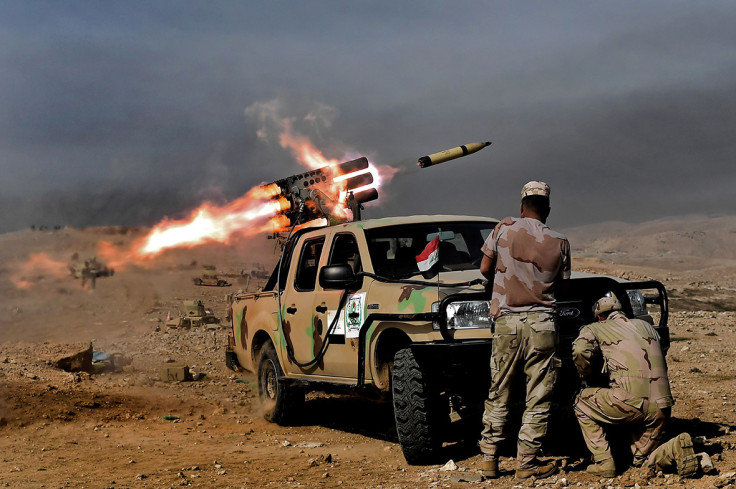 Reuters cited military sources as saying that a Federal Police brigade commander and 18 other members of the interior ministry force were killed in the two attacks. The Federal Police reportedly withdrew from the positions on Saturday (29 April) where the attacks took place, but the incidents prompted the police force to again tighten security around the Old City.
The sources told the newswire that the government had sacked the commander in-charge of security in the area for failing to fend off Isis counter-attacks.
According to estimates by the United Nations, nearly half a million people are trapped in west Mosul, 400,000 of whom are in the Old City with scanty supplies of food, water and medicine.