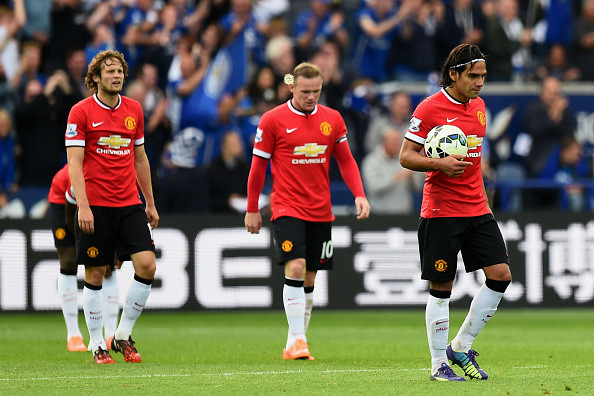 Former Manchester United hero Andy Cole has claimed new signing Radamel Falcao is a unique, old-fashioned number nine, but admits the Colombian star is going to create a big headache for Louis van Gaal to fit all his attacking stars in the line-up.
Falcao arrived at Old Trafford on deadline day this summer even though van Gaal already had Robin Van Persie, Wayne Rooney, Juan Mata, and Angel Di Maria in his attacking ranks.
The Dutch manager opted to sacrifice the Spaniard in the Sunday defeat against Leicester City to accommodate Falcao and van Persie up front, with Rooney behind them in his 4-4-2 diamond formation.
When questioned which forwards he would select, Cole said: "Well, that's why I'm not a manager or a coach".
"I think when you bring in all those players, you are going to create a problem," Cole said to Manchester United official website.
"It's a healthy problem when you've got good strikers but, as a manager, you've got to make those decisions and balance the rest of the team off that if you play them all together."
However and even though Falcao is yet to score a goal for United since his summer move to Old Trafford, Cole believes he will thrive in the Premier League should he put his injury concerns behind him.
"Of course, he had a bad injury with his cruciate [knee ligament] and it's a case of getting yourself back up to match speed. There were flashes the other day at Leicester and everyone knows what a quality player he is.
"It was a super ball for Robin van Persie and a superb header for us to go 1-0 up. He will score goals at this level because he's a quality player. Fingers crossed, he'll stay away from injuries and do very well for Manchester United."
Cole believes Falcao is actually a unique player as nowdays the old fashioned number nines like him are a dying breed.
"For me personally, when I look at him, I see an old-fashioned centre-forward. He wants to get into the box and score goals. He is very brave. You don't see a lot of that any more in the game. It's why he went to Monaco in the first place for £50million. He gives you a hell of a lot of goals.
"I wouldn't say there are others like him out there," he added. "The old-fashioned number nine is a dying breed. There are not many out-and-out goalscorers who want to run into the box to score goals.
"So I think they are a dying breed. When you do have someone like Falcao, if he does score goals, he will be treasured here. It's a case of gradually easing him into it as he's been out for a long time and going from there."