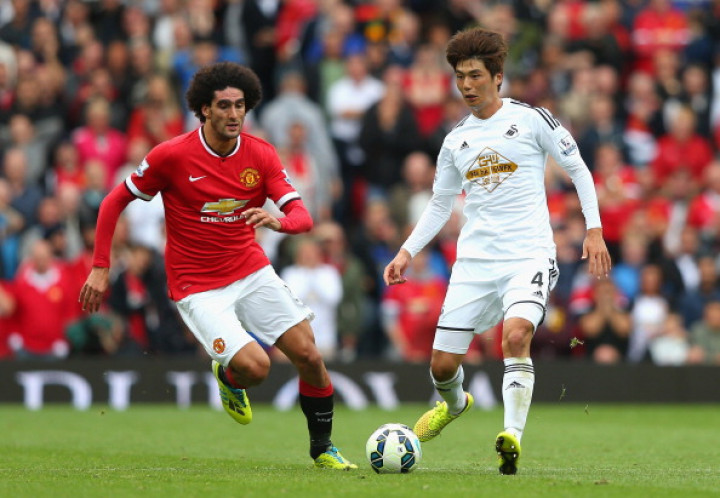 Manchester United midfielder Marouane Fellaini has revealed that Louis van Gaal did not force him to leave Old Trafford in the summer.
The Belgium international was signed by Red Devils' former manager David Moyes from Everton on a £27.5m deal in 2013.
However, he struggled in his debut season as injuries and poor form saw him receive a lot of criticism.
Napoli were keen on signing the former Everton star and they even confirmed their interest in having the midfielder on board.
Fellaini was linked with a move away from United after reports emerged that the 26-year-old was not included in the Dutchman's plan for this season.
The Belgium midfielder picked up an ankle injury last month, which prevented his transfer. Fellaini has now vowed to impress Van Gaal and prove his worth at United.
"I talked to Van Gaal and he has never said that I had to leave. He said I had a lot of competition, but that I will get the chance to prove myself," Fellaini told the Dutch paper Sport Wereld.
"I have known difficult moments like last season, but you become a stronger player afterwards. I have confidence in myself and in my game again."
"I played a good World Cup and also during the preparation, I was good. It is unfortunate that this injury has thrown spanner in the works, but at the end of the month I will be back," the United midfielder added.
Fellaini confirmed earlier this week that he would return to training after declaring himself fit. He last featured for United during their opening day defeat to Swansea City at Old Trafford and is keen to make a return to the playing XI.
United also have Michael Carrick on the sidelines and is expected to make his return from injury, which he picked up during the training in July.
Fellaini is likely to find it tough to get regular playing time under Van Gaal, especially when he has the services of Carrick, Daley Blind and Darren Fletcher in holding the midfield position.