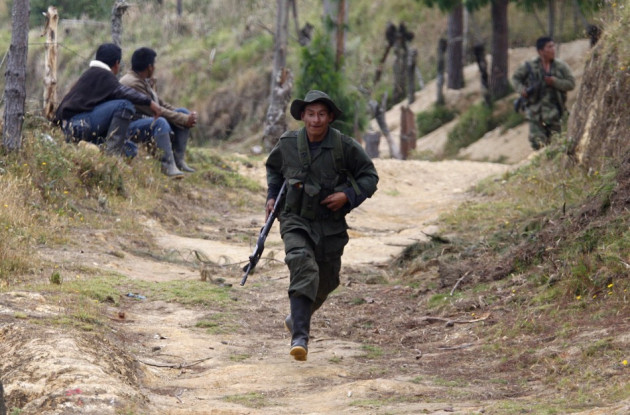 The Colombian army has bombed a Farc rebel camp and killed 20 guerrillas - just as peace talks were about to resume.
Three separate camps were targeted during the operation in Narino province near the Ecuadorian border, the Colombian army said.
Farc (Revolutionary Armed Forces of Colombia) had announced a unilateral ceasefire allow talks to go ahead. They are scheduled to last until January 20.
Colombia's President Juan Manuel Santos refused to agree to a truce until the end of negotiations and warned rebels against attempts to delay disarmament and become a lawful opposition force.
Farc has also pledged to stop political kidnappings, but reports sugges that such activities continue.
The rebel group admitted recently to holding "prisoners of war", despite earlier denials.
Santos said Farc has less than 12 months to reach an agreement to end the warfare.
"This has to be a process of months, rather than years. This should not last any longer than November next year at the latest," said Santos
Peace talks between the guerrilla group and the Colombian government to end the five-decade armed conflict, started in October in Norway.
The second stage of negotiations is due to start in Havana after a one-week break.
The last attempt to end the conflict through peace talks was ended by the government in 2002 after three years of unsuccessful negotiations.
It has been estimated that 600,000 people have died since the conflict began. About 15,000 other went missing and four million people have been displaced.
Farc number about 8,000 fighters.