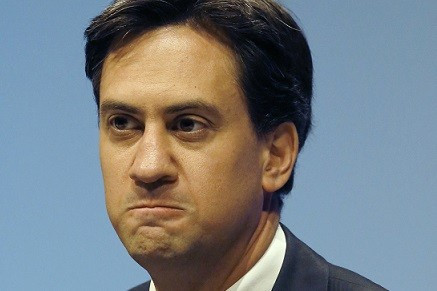 The Press Complaints Commission (PCC) has received nearly 400 complaints about the Daily Mail over its article on Ed Miliband's father.
The PCC confirmed that 252 of the total 384 complaints were about the original Mail on Sunday article by Geoffrey Levy about Miliband's father, Ralph, a Marxist academic who died in 1994. It ran under the headline, "The Man Who Hated Britain".
Much of the article was based on the writings of 17-year-old Ralph, a Jewish refugee who fled Belgium when he was 16 to escape the Nazis. In these letters, he described the average Englishman as a "rabid nationalist" and said: "You sometimes want them almost to lose [World War II] to show them how things are."
The Daily Mail allowed a furious Labour leader the right of reply to defend his father. He wrote: "There is no credible argument in the article or evidence from his life which can remotely justify the lurid headline and its accompanying claim that it would "disturb everyone who loves this country".
The paper ran Miliband's response alongside the original offending article, along with a comment piece which claimed that Ralph Miliband had left behind an "evil legacy".
The PCC said that a further 132 also complained about the Daily Mail's follow-up to the original story. A spokesperson said that the complaints had ranged from issues of accuracy and tone and of breaching the Editor's Code of Practice.
Comment, conjecture and fact
Clause 1 of the code, which underpins the PCC, says: "The press must take care not to publish inaccurate, misleading or distorted information, including pictures.
"The press, whilst free to be partisan, must distinguish clearly between comment, conjecture and fact."
The PCC said it was unlikely that it would take the issue further.
Miliband had not filed a complaint with the watchdog. He told the Evening Standard: "It is not about regulation but about responsibility and right and wrong. That applies to the Daily Mail editor as much as anyone else.
"I don't think you can regulate for comment but newspapers have a responsibility to society to conduct fair debate and not to conduct politics in the gutter. I am not going to stay silent and let the Daily Mail do that."
Although online complaints are not dealt with by the PCC, readers also objected to the Daily Mail using a photograph of Ralph's Miliband's grave with an caption calling him a "grave socialist" on the newspaper's website.
During a heated debate with former Labour spin-doctor Alastair Campbell on BBC's Newsnight, the Daily Mail's deputy editor Jon Steafel said it was an "error of judgment" that the picture was used in the online version of the story.
The photo was later removed after the Labour leader complained.
READ:
Lord Sugar to Mail Editor Paul Dacre: You're Fired, as Pressure Mounts on Cameron