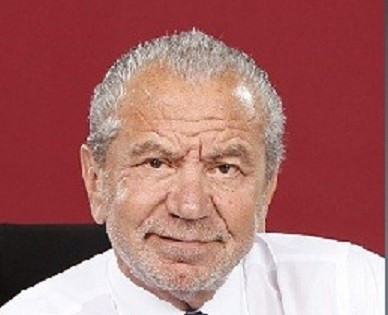 David Cameron is coming under renewed pressure to offer direct support to Ed Miliband in his bitter battle with the Daily Mail after Lord Alan Sugar said it was time editor Paul Dacre was told "you're fired".
As the row intensified, TV's The Apprentice star led the assault on the paper saying it was now time for Dacre to be fired or resign, even though nhis contract has just been renewed.
He was joined by senior Conservative, Lord Heseltine, who said the paper had "demeaned" itself and Tory blogger Iain Dale, who claimed it was time ministers "grew a pair" instead of trying not to upset the paper.
The escalation came as the prime minister desperately attempted to concentrate all attention on his big conference speech and away from Miliband, with aides unable to say whether he had yet read the original article which claimed Ralph Miliband "hated Britain".
He has only said that he, too, would be angry at any attack on his father and would rush into print to defend him. But he has stopped short of attacking the Mail, a powerful supporter of the Tories.
Attempts to get further remarks from him during the conference have gone unanswered.
Free Press
But with the Privy Council meeting next week to discuss the future of post-Leveson press regulation, there is pressure for more clarity. There are worries that, once again, the prime minister is leaving himself open to claims he is failing to stand up to the powerful, particularly when they are his supporters.
Some ministers including Foreign Secretary William Hague, Health Secretary Jeremy Hunt and Education Secretary Michael Gove have appeared eager not to ruffle the newspaper's feathers, claiming it had a right to offend on occasion.
Gove was the latest to comment, saying such attacks by a free press, checking the "arrogance of politicians", were "the price we pay for liberty."
But blogger Iain Dale, a former would-be Tory candidate expressed the view of many, tweeting: "The sound of Tory ministers frantically trying to avoid upsetting the Daily Mail is truly nauseating. They need to grow a collective pair."
Someone who has never been accused of an absence of that attribute, former deputy Tory leader Lord Heseltine did not beat about the bush, telling the BBC: "This is carrying politics to an extent that is just demeaning, frankly. The headline isn't justified. It is completely out of context.
"As everybody knows, the guy fought for this country and we now live in a totally different world to the clash between communism and fascism."
It also emerged the Press Complaints Commission had received some 500 complaints about the Mail's story, specifically over its accuracy.
And Miliband repeated his demands for an apology for an offending picture of Miliband Snr's grave which the Mail has accepted was "an error of judgement" and had been removed from its website.
He said "Sometimes a line is crossed. The next election can't be fought in the gutter. The most important thing for me was to defend my dad."
And that remains the core of this affair. There are few doubts the 2015 election campaign will be as hard fought and potentially bitter as the 1992 campaign which saw unprecedented attacks on then Labour leader Neil Kinnock.
Ed Miliband, as well as being genuinely infuriated by the attack on his father, is determined to nip that in the bud.
READ:
Ralph Miliband v Dacre's Daily Mail: 400 Complaints to PCC over Slur of Labour Leader's Father