As cryptocurrency and blockchain technology edge into the mainstream, it's significant that the iconic Ethereum design studio, ConsenSys, has chosen London to host its "European Hub".
At the opening party for the new London office, Jeremy Millar, chief of staff at ConsenSys said: "I think there are tremendous opportunities for London to maybe sing away some of its Brexit blues with a good dose of blockchain, and a good dose of ConsenSys."
He said one of the main reasons for choosing London was the blockchain talent that can be tapped into as ConsenSys scales. In the last week or so, three London notables have jumped ship to come under the ConsenSys umbrella: Alex Batlin, who formerly led blockchain work at BNY Mellon; Edward Budd, the former chief digital officer for Deutsche Bank's Global Transaction Bank; and Ajit Tripathi, the out-spoken PwC blockchain evangelist.
The London hub has space for 60 members and sponsored projects (ConsenSys has quadrupled in size to 450 employees in 27 countries over the past 12 months). Millar said that everything that's being done over in Brooklyn at ConsenSys HQ, will now be going on in London. "We have effectively already run out of space. We took possession in August and now the question is when to take another floor."
A further reason that London is the only real choice in Europe is to do with innovation. London has always been a progressive adopter of financial innovation, both in the capital markets context and in the technology context; one of the first jurisdictions to go dematerialised, a real leader, said Millar.
Regarding recent consternation for the City around passporting services into Europe, Millar had this to say: "People talk about the global financial system, and there isn't a global financial system. The way you issue a public share in London is different than how you issue a public share in New York; the way you issue a share in Paris, even with MiFID and everything is different than the way you issue it in London.
"With the global Ethereum blockchain we have an instantaneous global settlement and clearing network. And we are seeing so much innovation come out of that. We see a huge opportunity for leading jurisdictions – we are seeing a lot of this in Singapore, a lot of this in Dubai, some of it in Luxembourg, a lot of it in Hong Kong.
"There is an opportunity to put in place the regulatory underpinnings to adopt it, to adopt a global financial backbone – which doesn't exist today; there isn't a global clearing house today. And we have something much, much better and more powerful than that in Ethereum.
"So I completely agree: the UK should have a strategy and we are here to help."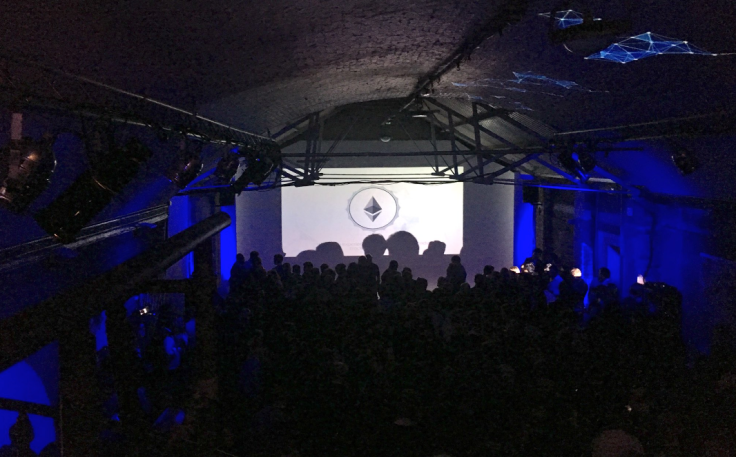 Ethereum is similar in spirit to Bitcoin, the decentralised digital currency whose transactions are collected in a tamper-proof chain of blocks. Bitcoin's major innovation is that all the participants in the decentralised network can agree upon the shared state of a ledger. This simply comprises columns for addresses, balance of Bitcoins, and an access control script that allows users to move Bitcoins to other addresses.
If Bitcoin is analogous to a calculator shared across the network, Ethereum is more like a shared virtual computer. It allows the user to upload software to the blockchain computer, which has the same immutable, tamper-proof properties as Bitcoin. Thereafter, that software, which can be any kind of complex business logic, cannot be modified, or deleted, or replaced with a virus, or whatever. It's a power with the potential to create a new type of internet.
Some have commented that Ethereum's current killer app has been the proliferation of initial coin offerings, a type of crowdfunding of new blockchain projects with tokens which are compatible with Ethereum. The current craze for token issuances, a kind of digital gold rush, has attracted the attentions of regulators and created fears of a bubble.
Millar, a former Goldman banker who worked in venture for five years before joining ConsenSys, makes the point that crowdfunding was a phenomenon before blockchains came along. Crowdfunding is something the JOBS Act (Jumpstart Our Business Startups) was highly supportive of, for example, and that financial regulators in the UK have been highly supportive of, because it's about stimulating growth, financial inclusion and so on.
"When you see a lot of innovation, you go through hype cycles, you go through ups and downs, you can go through bubbles. Remember, Amazon was formed in a bubble, PayPal was formed in a bubble, Cloudera was formed in a bubble."
Certain token sales may be garnering a terrible reputation, but that said, "apparently intermediated, highly incentivised, oligopolies are terrible for the financial system too as we have learnt to our detriment," said Millar, "the heavily capitalised, heavily intermediated, large-cap system has been shown to have weaknesses."
Millar is also the founding board member of the Enterprise Ethereum Alliance (EEA), a consortium born out of ConsenSys which focuses on large financial institutions and how they are using Ethereum. Asked to outline ways Ethereum could be useful to a big bank, or group of banks, he pointed to the way KYC (know your customer) is currently handled.
"The problem with KYC is you have to stove-pipe it under privacy regulation. But no CIO or data protection advocate would say the right thing to do is to ask for the same set of sensitive data 17 times and stored in 17 databases.
"That's actually terrible; it expands the risk of data leakage. With blockchain we can fix that by giving the ownership of the private data to the user, and having the different parts of the bank be granted temporary access to do the KYC check – a much better architecture.
"So we can use blockchain to fix stove-piped KYC, but once we have done that, we have KYC on the blockchain. Now all of a sudden we have KYC'd identities on the blockchain and now we can do regulated activities on the blockchain, because we have the compliance.
"We look at this in supply-chain, we look at this in education, healthcare; we talk about how we can solve today's problems with blockchain by making processes frictionless."
Millar is also heavily involved in Pegasus, the ConsenSys protocol engineering and systems project which is contributing deeply to the EEA spec., work on JP Morgan's Quorum blockchain, and Ethereum 2.0.
This is another area where ConsenSys has been hiring top engineering talent. "We are starting to pull in some of the lead developers and lead architects from previous distributed systems.
"We have hired two of the primary committers, two people that are very senior in the Cassandra project. We have hired another maintainer from Apache to join us. So we are starting to attract this very high end technical talent; we hired a PhD who was an intern in Google's PhD programme, who turned down an offer at Google to work for us for less money."
It's interesting that Bitcoin's price is soaring and yet Ethereum currently looks very under-valued, stuck between $300 and $400. Could we expect to see a surge soon?
Millar said: "We don't comment on prices, but we do comment on the intrinsic value of the Ethereum network.
"I sometimes frame it this way: there isn't an organisation in the world that doesn't want a frictionless, secure, shared, global instantaneous infrastructure for real value transfers and managing complex business processes.
"When you look at Ethereum you get all of that. And I think it's only a matter of months and certainly not more than a year or two before we see large global 2000 companies publishing to the Ethereum mainnet blockchain.
"I think it's hard to judge what the intrinsic value of that is."