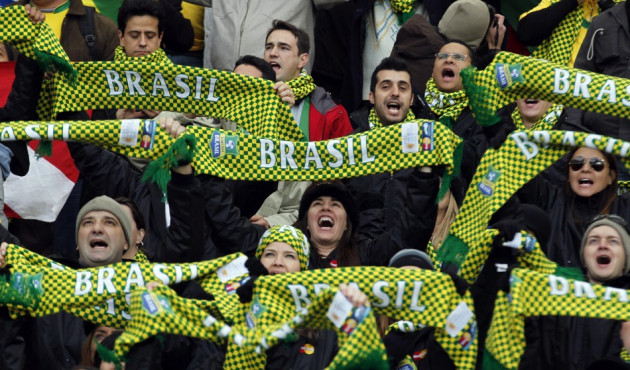 Calendario Copa America 2-24 July, 2011
Argentina and Brazil remain the bookmakers' favourites to lift this summer's Copa America despite both nations being held in their opening matches with Bolivia and Venezuela respectively.
Each of the 12 teams have now played, with only Chile and Colombia posting victories -- the first time in the tournament's 43 edition history that both Argentina and Brazil have failed to win their opening games.
Behind the front two, Uruguay and Chile have been tipped as potential dark horses following the first round of fixtures.
Argentina take on Colombia on Thursday, while Brazil are in action against Paraguay this Saturday.
Live matches
In the US, the tournament will once again be shown live exclusively on Spanish-language broadcaster Univision, with match highlights and live streaming also available on the company's website.
In the UK, ESPN will show the tournament for the first time, a full list of live fixtures and highlights is available on the channel's website.
In addition, Google YouTube will stream live matches to viewers in over 50 countries at youtube.com/copaamerica (not available in the UK). All matches will be screened live with English commentary including replays and highlights which will be available on demand.
Below is the full schedule for this year's tournament (all times BST):
| | | |
| --- | --- | --- |
| Tuesday 5th | Chile v Mexico | 1:45am |
| Thursday 7th | Argentina v Colombia | 1:45am |
| Thursday 7th | Bolivia v Costa Rica | 11:15pm |
| Friday 8th | Peru v Mexico | 1:45am |
| Saturday 9th | Uruguay v Chile | 11:15pm |
| Saturday 9th | Brazil v Paraguay | 8:00pm |
| Saturday 9th | Venezuela v Ecuador | 10:30pm |
| Sunday 10th | Colombia v Bolivia | 8:00pm |
| Tuesday 12th | Argentina v Costa Rica | 1:45am |
| Tuesday 12th | Chile v Peru | 11:15pm |
| Wednesday 13th | Uruguay v Mexico | 1:45am |
| Wednesday 13th | Paraguay v Venezuela | 11:15pm |
| Thurday 14th | Brazil v Ecuador | 1:45am |
| Saturday 16th | Quarter Final, TBD v TBD | 8:00pm |
| Saturday 16th | Quarter Final, TBD v TBD | 11:15pm |
| Sunday 17th | Quarter Final, TBD v TBD | 8:00pm |
| Sunday 17th | Quarter Final, TBD v TBD | 11:15pm |
| Wednesday 20th | Semi Final, TBD v TBD | 1:30am |
| Thursday 21st | Semi Final, TBD v TBD | 1:30am |
| Saturday 23rd | 3rd Place Playoff | 8:00pm |
| Sunday 24th | Final | 7:45pm |
Source: ESPN