The mummified remains of a baby and an adult have been discovered in a medieval necropolis in remote Siberia. The adult was covered in copper from head to toe, while small fragments of copper boiler were placed on the baby.
Archaeologists have yet to find out what exactly these funerary rituals meant. It is also unclear what mysterious ancient civilisation these two individuals belonged to. However, the archaeological site where they were discovered has been known for twenty years and has already revealed a number of secrets about the past.
The archaeological complex, known as Zeleny Yar, was discovered in 1997. The necropolis where the two mummies were discovered dates back to medieval times, sometime around the 13<sup>th century.
However, remains of of a bronze-casting workshop dating back to the 6<sup>th and 7<sup>th centuries, as well as a burial ground from the 8th and 9<sup>th centuries have also been identified at the site.
Archaeologists excavating the necropolis have found many burials over the past two decades, with signs of unusual funerary rites not practised elsewhere in the region.
Fur and copper
The deceased were buried in wooden sarcophagi or birch-bark wrapping. They were dressed in fur clothing, and many were also encased in copper.
In the space between graves, bronze artefacts, silver jewellery and utensils of silver and bronze were unearthed. Analyses have suggested that such objects were imported from the Perm region and from Volga Bulgaria (an ancient Bulgar state that existed from the seventh to thirteenth centuries).
Archaeologists think these rituals are the remnants of an unknown Arctic civilisation. It's possible that the newly discovered mummified remains will shed light on what it was like, why they ended up at the edge of Siberia, and how they lived.
In a statement on the official website of the Yamal-Nenets autonomous region, the archaeological team studying the two mummies explained that they would conduct a series of analyses including computer tomography to look at the remains within their burial cocoons, without opening and damaging them.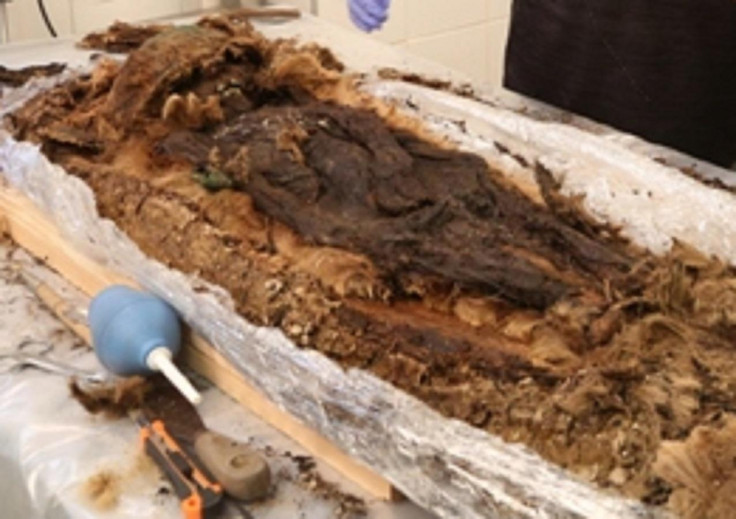 They will conduct analyses of the mummies' anatomy and studies of their DNA to learn more about their identities. To assess their health status, the team will also do a parasitological analysis to see if the remains contain traces of pathogenic microorganisms. This could help them draw more general conclusions about the health of people in the region in the Middle Ages.
This type of work was done previously with a mummy found at the site in 2015. Scientists analysing the mummified remains of a boy found traces of the parasite opisthorchis, which is acquired by eating raw or undercooked fish. Untreated, it can lead to serious illness.
The findings from the latest field studies at Zeleny Yar, including the first conclusions regarding the two mummies, will be presented in November at a conference on archaeology in the Arctic, which will take place in Salekhard (Russia).