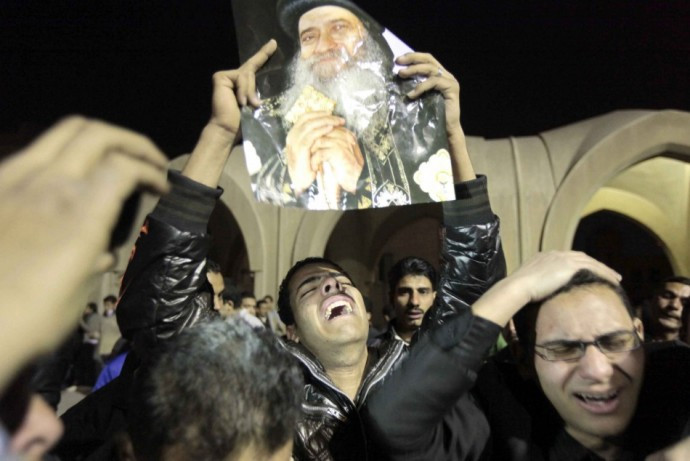 Bishop Tawadros has been chosen as Egypt's 118th Coptic pope after a piece of paper bearing his name was selected by a blindfolded altar boy at St Mark's Cathedral, Abbasiya, Cairo.
The new pope succeeds Pope Shenouda III, who died in March after leading the church for over 40 years.
Bishop Tawadros was one of three candidates whose names were written on pieces of paper and palced in a transparent box. Tawadro was born in 1952 and studied pharmaceutical sciences at Alexandria University before his ordination as a bishop in 1997.
Following morning mass, altar boy Bishoy Gerges Mossad was chosen by the interim head of the Church, Father Pachomius, to make the selection of pope, his hands guided by God's will, according to Coptic belief. The two other names in the box were: Bishop Rafael, 54, a medical doctor and the present assistant bishop for central Cairo; and Father Rafael Ava Mina, 70, from the St Marina Monastery.
The new pope has been selected at a difficult time for the Coptic Church, with many members claiming that the church is being sidelined in a politically uncertain Egypt whose recently elected president Mohamed Morsi Isa El-Ayyat is a member of the Muslim Brotherhood.
The eight million Copts in Egypt will look to the new pope to make their community heard in the Muslim majority nation. However, activists are not expecting any radical change in the political role of the leader in the new democratically elected Egyptian government.
Bishop Tawadros will be enthroned as Egypt's 118th pope on 18 November.