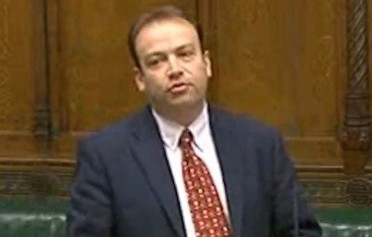 A Conservative campaign manager has boasted that he encouraged leading climate change sceptic blogger James Delingpole to stand against his own party's candidate in the Corby by-election to "cause some hassle" on the issue of wind farms.
Chris Heaton-Harris, MP for Daventry, told an undercover Greenpeace activist that he was "running" the by-election, and had "suggested [to Delingpole] that he did it."
Heaton-Harris added: "I've managed to provide [Delingpole] with a handful of people who will sort him out. So my deputy chairman, political, resigned from my local party and is running his campaign as his agent. So it's all professionally done. The whole point of that is to actually just put it on the agenda."
Ultimately, Delingpole would not "be putting his deposit down. He just did it because it's a long campaign, it's six weeks to cause some hassle and get people talking."
When asked by the filmmaker if the plan was to get the anti-wind farm campaign on the agenda, Heaton-Harris replied "exactly. And it will go through way past the Corby by-election stuff. I'm trying to write it into the DNA of the Tory party."
Delingpole did announce he intended to run as a candidate for the Corby seat previously occupied by Louise Mensch, the high-profile MP who quit because she wanted to spend more time with her music industry husband in New York.
However, the high-profile blogger pulled out of the race without paying his deposit, after energy minister John Hayes gave an interview in which he pledged to scale back the development of wind farms.
Although Heaton-Harris asked the undercover activist not to "tell anyone, ever" the video has now been broadcast on the Guardian, prompting condemnation from the Opposition.
Ed Miliband described the Conservatives as a shambles, while Labour's vice-chair Michael Dugher said: "Even the Tory campaign manager doesn't think people should be supporting the Conservative candidate. If Chris Heaton-Harris doesn't have faith in the Tory candidate and his party, the public shouldn't.
"Last week the Tories withdrew the whip from Nadine Dorries for going on I'm A Celebrity. For a Tory MP to support a rival candidate in a byelection in order to try to change government policy is surely an even more serious betrayal of his party. David Cameron should show some leadership."
However home secretary Theresa May appeared to rule out firm action against Heaton-Harris, saying that the MP has only been guilty of harmless boasting.
The Corby by-election takes place on Thursday. Labour is confident of taking Corby from the Tories in the upcoming election, triggered by Mensch's shock resignation.
Heaton-Harris said: "I'm running the Corby by-election for the Tories, and Delingpole, who is my constituent and a very good friend, put his head above the parapet, but won't put his deposit down ... It's just part of the plan.
Later in the recording, Heaton-Harris said he: "suggested to [Delingople that he did it. Which puts me in a very awkward [inaudible]."
He then pleads with the secret activist: "Please don't tell anyone ever.
"But he will not be putting his desposit down. He just did it because it's a long campaign, it's six weeks to cause some hassle and get people talking."
He goes on: "James Delingpole can go and endorse the Ukip candidate, don't give a toss about that. Maybe we've just moved the agenda on."

Writing in the Telegraph, Delingpole hailed Hayes' comments on wind farm policy, adding: "And did my own brief involvement in the Corby by-election play its part in concentrating David Cameron's mind and shifting government policy? Well obviously I'd like to imagine so, but I'm not going to boast."