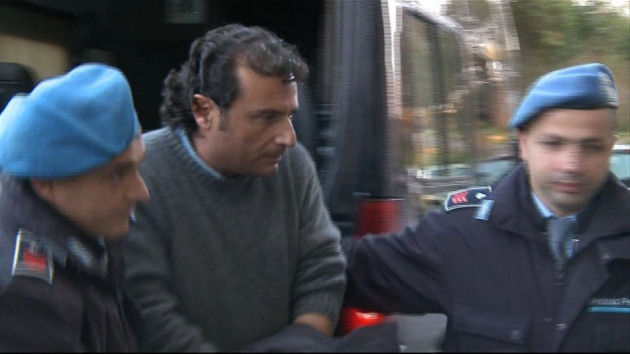 Costa Concordia Captain Francesco Schettino has been placed under house arrest after a court appearance as hope dimmed that more survivors would be found on the stricken liner.
Schettino has been accused of manslaughter and abandoning ship while passengers were still trapped inside. The death toll from the disaster has been updated to 11 after five more bodies were discovered. About 24 people were still missing.
People who have worked with him have called him a daredevil and better suited to driving a Ferrari. Mario Palombo, a former Costa commander, told La Repubblica: "I've always had my reservations about Schettino. He was too exuberant, a daredevil. More than once I had to put him in his place."
Rescue operations have been suspended and divers were ready to take action and blow holes in the liner's hull. Salvage workers were due to begin drilling through the ship towards the 17 tanks.
A record of a call between Schettino and a port official after the crash has sparked fury on social media.
In the recording, released by the Corriere della Sera newspaper, Livorno Port Authority chief Gregorio de Falco can be heard repeatedly telling the captain to get back on board the ship to help the stranded passengers.
"You go on board and then you tell me how many people there are," de Falco shouted. "Is that clear?" He also threatened to sue the captain. "I have recorded this conversation. Schettino, maybe you saved yourself from the sea, but I'll make you have trouble for sure. Go aboard," he said.
The captain resisted, saying the ship was lying on its side and it was too dark to see. He claimed to be in a lifeboat and that he was leading the rescue team from there.
De Falco replies: "Do you want to go home, Schettino? It's dark, so you want to go home? Get on that prow of the boat using the pilot ladder and tell me what can be done, how many people there are and what their needs are. Now!
"You go aboard. It is an order," he continued. "Don't make any more excuses. You have declared the abandoning of the ship, now I am in charge."
Schettino could face up to 12 years in jai, according to Italian nautical laws. His lawyer said the captain admitted his mistakes before the court, but claimed to have "saved hundreds, if not thousands, of lives" thanks to his final manoeuvre.
Urine samples were taken from Schettino for drug tests.