Costa Concordia: Mystery of Blonde Moldovan Domnica Cemortan [SLIDESHOW]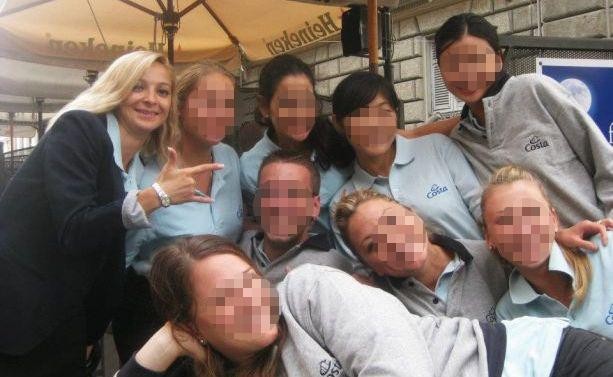 Italian prosecutors are trying to trace a blonde Moldovan woman who was allegedly with Francesco Schettino, the captain of the Costa Concordia, at the moment the cruise ship hit rocks off the Italian coast.
Domnica Cemortan, 25, reportedly works for the Costa Crociera company, which owns the stricken vessel, and is believed to have worked as a dancer on another cruise ship in 2007.
Cemortan was born in Chisinau, Moldova, and lives in Bucharest, Romania, according to her Facebook page.
She was on board the luxury cruise liner during its doomed final voyage as a guest of one of the ship's officers and was not listed on the ship's manifest.
She was allegedly on the bridge with Schettino because the captain was trying to impress her.
Witnesses claimed to have spotted 52-year-old Schettino, who is married and has a child, accompanied by a blonde woman in the luxury restaurant on the top deck of the liner at the time of the impact.
Cemortan gave a brief interview to the Moldovan channel Jurnal TV, in which she defended Schettino against allegations that he abandoned the ship after it hit rocks.
"He saved thousands of lives," she said. "I think he did an extraordinary job and all the crew is supporting him and think he saved more than 3,000 lives."
In another interview with the website adevarul.ro, she said she was having dinner when the accident occurred.
"I climbed to the main deck and started translating in Russian information given by officials," she said. "I left the liner at 11.50pm and the captain was still on board. He helped evacuate people from the ship."
The Italian daily La Stampa reported that another passenger, of British nationality, had spotted Cemortan drinking with Schettino before the crash.
Investigators want to establish exactly where she was at the time of the accident off the Tuscan island of Giglio, when the captain was apparently making a salute to an old friend.
Various newspapers have been publishing images of the mystery woman...
© Copyright IBTimes 2023. All rights reserved.