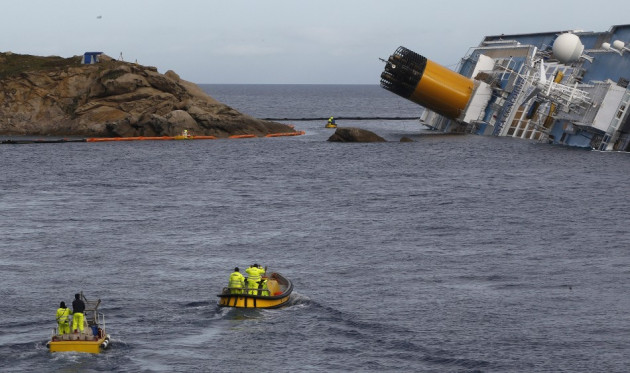 Pumping operations were poised to start on the Costa Concordia to drain half a million gallons of fuel from the stricken cruise liner but the hunt for survivors was continuing, civil protection officials said.
"The ship is in stable condition and will not sink," said Franco Gabrielli. "Rescue operations will go ahead."
Dutch Salvage company Smit were on standby to begin pumping operations, which were expected to take a month. Smit was waking for a second absorbent boom to be installed before work could start, company officials said.
The booms are used to reduce the possibility of polluting shorelines and to help make recovery easier.
"It is understood that the Italian marine authorities will permit oil removal activities once these precautionary measures have been put in place," Smit said.
Gabrielli updated the death toll to 15 people with 24 people still missing. Divers have found another two women victims in the ship.
Investigators have been searching for the personal computer of Captain Francesco Schettino. Reports indicate it was taken away by a mystery blonde woman after the disaster.
Some witnesses claimed that Schettino was distracted by guests on the bridge when he crashed on a rock off Giglio island. "There was someone who asked which island it was and the maitre d'hotel was chatting, basically disturbing the steering, with a consequent impact on concentration," said officer Silvia Coronika who was on the bridge.
The captain is under house arrest on charges of manslaughter, causing a shipwreck and abandoning Concordia before all passengers were evacuated.
Schettino claimed that sailing to shore was common practice as a publicity stunt and was ordered by Costa Concordia's owning company. "The salute to Giglio was arranged and wanted by Costa Crociera before we left Civitavecchia. It was for publicity reasons," he said in a testimony.
"We have carried out those sail-by salutes all over the world."
Hordes of tourists with picnics and cameras have arrived on the island to take pictures of the half-sunken ship.