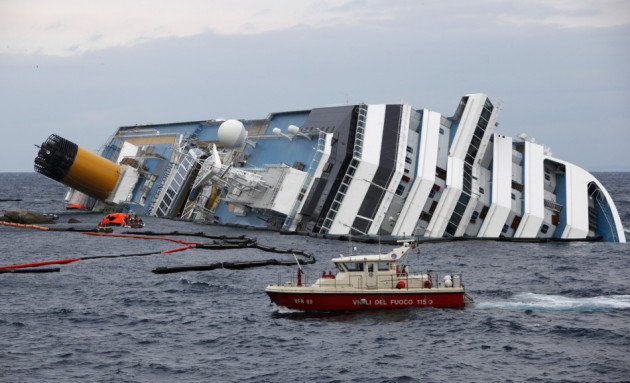 Treasure hunters are on their way to plunder treasures from the stricken Costa Concordia cruise ship, diving experts have warned.
In the evacuation that followed the liner striking rocks off the Italian coast, passengers left everything behind. That included jewels, cash, expensive champagne, antiques, 19th-century Bohemian crystal glassware, and other precious art objects. It is only because the bodies of some of the victims are still on board too that bounty-hunters have held off, experts claimed.
"As long as there are bodies in there, it's considered off-base to everybody because it's a grave," Robert Marx, a veteran diver and the author of numerous books on maritime history and underwater archaeology and treasure hunting, told AP.
"But when all the bodies are out, there will be a mad dash for the valuables."
The massive cruise liner itself is worth $590m (£370m) but that does not take into account the value of all other objects on board, said Costa Crociere, the Italian company that operated the Costa Concordia.
Meanwhile, divers have found clothing and lingerie belonging to Moldovan dancer Domnica Cemortan inside Captain Francesco Schettino's cabin.
The 25-year-old woman, who admitted she was with Schettino at the moment the cruise crashed, said she was in love with him, according to some reports. She was interviewed for nearly six hours by prosecutors in Tuscany
"I love him, and it's not right to destroy his reputation," Cemortan told investigators, according to the Daily Telegraph. "Everyone is hammering him."
Cemortan is believed to have worked as a dancer on another cruise ship in 2007. Witnesses claimed to have spotted 52-year-old Schettino, who is married and has a child, accompanied by a blonde woman in the luxury restaurant on the top deck of the liner at the time of impact.