The race to qualify for next season's Champions League has intensified further after Arsenal kept their hopes of a top-four finish alive after beating Southampton at St Mary's. They join Liverpool, Manchester City and Manchester United in pursuit of the two remaining places in next season's competition, with the added carrot of competing for a share of over €1.31bn (£1.11bn) in prize money.
With Chelsea destined to win the Premier League title and Hull City and Crystal Palace duelling to avoid joining Sunderland and Middlesbrough in being relegated to the Championship, the top four battle looks like going to twilight of the campaign. In fact, pursuit of the continent's premier club competition could go on beyond the final minute on the last day of the season. Here's why: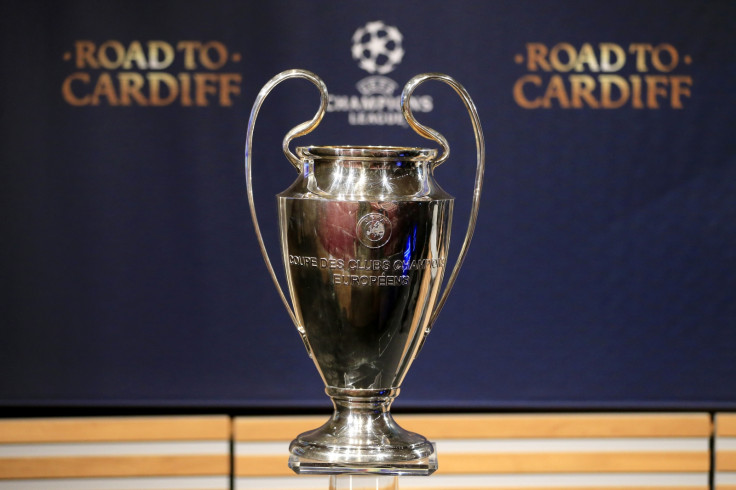 There are two scenarios whereby either Arsenal and Liverpool, or the Reds and Manchester City, could finish level on points, goal difference and goals scored – triggering the activation of rule C.17 in the Premier League regulations, which reads: "If at the end of the Season either the League Champions or the Clubs to be relegated or the question of qualification for other competitions cannot be determined because two or more Clubs are equal on points, goal difference and goals scored, the Clubs concerned shall play off one or more deciding League Matches on neutral grounds, the format, timing and venue of which shall be determined by the Board."
This is how the table looks with less than a fortnight of the campaign remaining.

Arsenal and Liverpool are the most likely sides to be involved in a play-off, which would be for fourth place. Having played a game more, Jurgen Klopp's side have a four-point and three goal advantage over the Gunners – though both sides have scored the same number of goals. Should the Merseysiders lose to West Ham United but beat Middlesbrough, and Arsene Wenger's team pick up seven points from their three remaining matches they would be locked on 73 points, and could be tied on goal difference and goals scored. This is an example of the results required to produce a play-off.
Results required to produce Arsenal vs Liverpool playoff:
13 May: Stoke City 1-1 Arsenal
14 May: West Ham United 1-0 Liverpool
16 May: Arsenal 3-0 Sunderland
21 May: Arsenal 2-1 Everton, Liverpool 3-1 Middlesbrough
A variation on these scorelines could also deliver a play-off, but the only way both sides can mathematically finish on the same points, goal difference and goals score is by Arsenal taking seven points from their last three games, and Liverpool just three – coupled with a goal swing of three.
The second scenario that could produce a play-off would be if Liverpool and City are locked together in the race for third – a position that guarantees automatic qualification for the group phase. Fourth position only secures passage to a qualifying tie for the main competition.
Pep Guardiola's side currently trail Liverpool by a single point but with a game in hand and a four-goal advantage they are favourites to nab that third spot. If the Etihad outfit are held by West Bromwich Albion and then prevail by a single goal in two high-scoring matches against Leicester City and Watford, while Liverpool comfortably win their last two games, the pair could be inseparable.
Results required to produce Liverpool vs Manchester City play-off:
13 May: Manchester City 3-2 Leicester City
14 May: West Ham United 0-3 Liverpool
16 May: Manchester City 1-1 West Bromwich Albion
21 May: Liverpool 3-0 Middlesbrough, Watford 2-3 Manchester City
Has the Premier League hosted a play-off before?
There have been several occasions where the top flight campaign has been tantalisingly close to a play-off to separate two sides locked on the same points, goal difference and goals scored. The most recent occasion came in the 2012-13 campaign, where Arsenal and Chelsea were destined to finish joint third if a particular set of results occurred on the final day.
Chelsea need to draw while Arsenal won by a single goal having scored at least twice. In the end both teams won their final games, the Blues 2-1 against Everton and the north Londoners 1-0 at Newcastle United.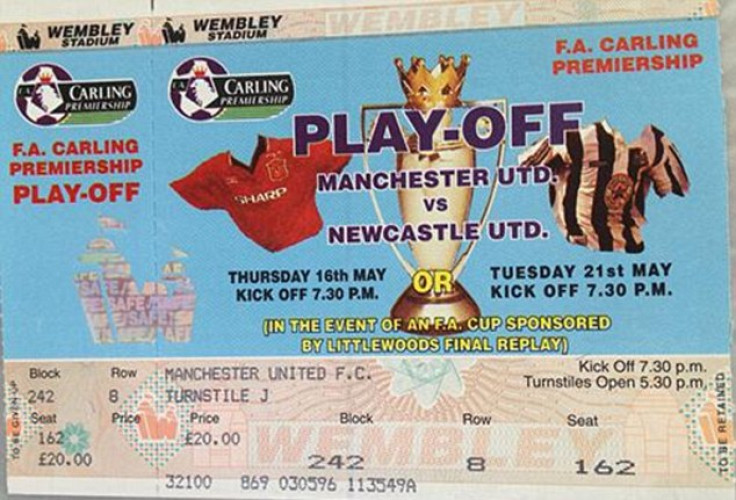 Premier League bosses went to the liberty of printing tickets for a possible title deciding play-off at the end of the 1995-96 season when Manchester United and Newcastle United duelled for the championship on the last day. A 6-0 win for the Toon coupled with a 1-1 draw with Sir Alex Ferguson's side would have led to the one-off fixture, but eventual champions United prevailed 3-0 at Middlesbrough while Newcastle were held by Tottenham Hotspur.
When and where would a potential play-off be played?
Though a venue was never officially proposed for the aforementioned play-off between United and Newcastle, the demand for the unprecedented fixture contested between two of the best supported teams in the country would make Wembley Stadium – with a capacity of 90,000 – a strong contender to host the game. Old Trafford or the Millennium Stadium may also be considered, but the clubs involved – as well as the Premier League – will be eager to cash-in on what could be a once-in-a-lifetime event. However, whether the Richard Scudamore-led body would allow the FA to muscle in on a game played under the Premier League's jurisdiction remains to be seen.
Regardless of the venue, finding a place in the calendar before the post-season international break could prove tricky. One possible date is Tuesday 23 May, two days after the final Premier League weekend but the close proximity to the final day would provide limited time to organise such an event – and also hinder Arsenal's preparations ahead of the FA Cup final against Chelsea, should they be involved. The same would go for 24 May, which would clash with the Europa League final –breaching Uefa regulations in the process – and Liverpool's post-season friendly against Sydney FC in Australia.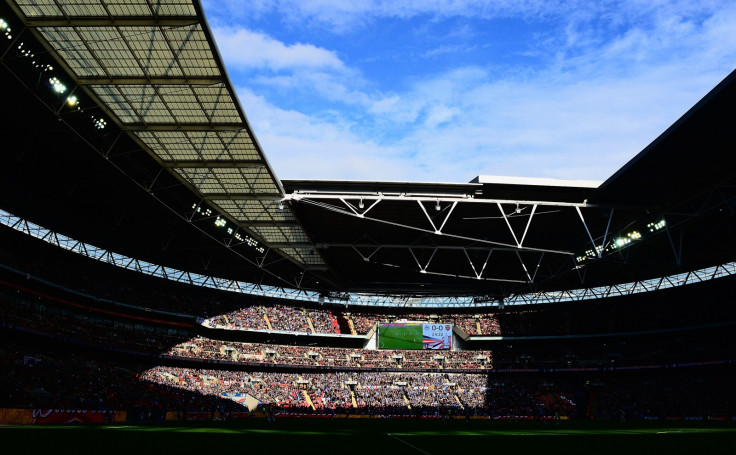 With the cup final on 27 May followed by the League Two and Championship play-off finals over the second May Bank Holiday weekend, the next available dates would be 30-31 May, or 1 June. Wembley would not be in use again until Saturday 10 June when it hosts the Capital Summertime Ball.