Councils are 'dismissive and discriminatory' of a rising number of homeless people, say MPs
Communities and Local Government Committee calls for cross-Whitehall strategy to end homelessness crisis.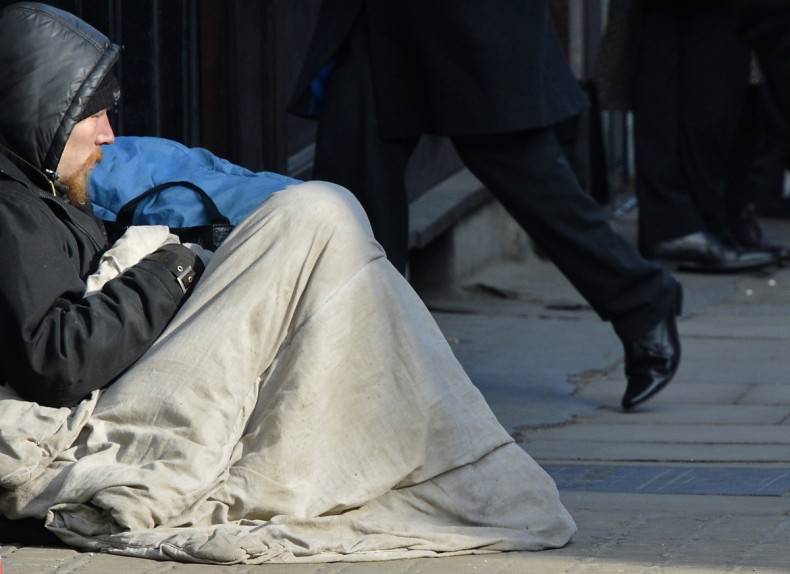 A shortage of homes and the rising cost of housing is pushing more people into homelessness and the government must come up with a renewed cross-departmental strategy to tackle the crisis.
Councils should also have more duties to support those who approach them for housing help because some are "treating homeless people in ways that are dismissive and at times discriminatory".
These were the conclusions of a report on homelessness by MPs on the Communities and Local Government Committee, the result of an inquiry started in December 2015. It was the first of such inquiries by a House of Commons select committee in a decade.
"No one should be homeless in Britain today, but the reality is that more and more people find themselves on the streets, in night shelters or going from sofa to sofa to keep a roof over their heads," observed Clive Betts, a Labour MP and chairman of the committee.
"They are often driven there by the availability and cost of housing and have been failed by front-line support services along the way.
"The scale of homelessness is now such that a renewed government strategy is a must. It needs to not only help those who are homeless but also prevent those vulnerable families and individuals who are at risk of becoming homeless from joining them. All departments will need to subscribe to this common approach and contribute to ending homelessness."
In what it describes as "unusual", the committee will sponsor and scrutinise a private member's bill from one of its own members, the Conservative MP Bob Blackman. The Homelessness Reduction Bill will be published shortly.
'Hidden homeless'
Government figures show there were 29,120 applications to local authorities for emergency assistance with housing in the first quarter of 2016. Of those, 14,780 were accepted as having an urgent need for temporary housing because they were at risk of homelessness, a 9% increase over the year.
But the MPs' report said official statistics were not robust enough or providing the clearest picture of homelessness in the country, which is worse than the data suggests.
Some of these "hidden homeless" do not approach local authorities for help, such as those living on the sofas of friends and family. Others are turned away by councils before making formal applications for help so are also not recorded by the official statistics.
The report said one of the "major" drivers of rising homelessness is the ending of Assured Shorthold Tenancies in the private rented sector, when landlords decide whether or not to renew the contracts of their tenants. Nearly a third of homelessness applications are the result of the loss of a shorthold tenancy, up from 13% a decade previously.
"An increasing proportion of our clients seem to be employed, part-time, possibly low-waged, but have ended up losing a private sector tenancy," the housing lawyer Giles Peaker told the inquiry. "It is often a rent increase, and that is it."
These issues are compounded by a shortage of social housing and welfare cuts, said the report. Part of the government's welfare reforms has been the payment of housing benefit directly to tenants, who are then responsible for paying the rent. MPs called for a return to a system that pays housing benefit directly to landlords to reduce the risk of tenants falling into arrears.
MPs also called for a review of the resources allocated to support those most vulnerable, including people with mental health issues and victims of domestic violence, so funding is used most effectively and increased where needed to prevent homelessness among these groups.
'Unacceptable' service for homeless
The report criticised the variation in quality between local councils of the work to tackle homelessness and support those in housing need. It urged the government to "review and reinforce" its Code of Practice for councils to "to ensure a sympathetic and sensitive service".
There should be "a statutory duty to provide meaningful support to single homeless people who can prove a local connection", argued MPs.
"We have received too much evidence of councils and their staff treating homeless people in ways that are dismissive and at times discriminatory," the report stated. "This is unacceptable ... Services should put users first with a compassionate approach that gives individuals an element of choice and autonomy."
"Local government can succeed in reducing homelessness if given the funding and powers to bring together local housing, health, justice, and employment partners, to address the gaps between household incomes and spiralling rents, and to resume their historic role as a major builder of affordable homes," said Nick Forbes, senior vice chairman at the Local Government Association, which represents councils.
"The extension of legal duties on councils, as supported by the committee, would need to be accompanied by sufficient powers and funding from the government, as part of a coherent national strategy. Without this, councils will continue to find it difficult to deliver on our ambitions to end homelessness."
"Statutory homelessness remains less than half the 2003-04 peak, however, one person without a home is one too many," said a spokesman for the government.
"As a government that works for everyone, not just the privileged few, we are investing over £500m to both tackle homelessness and prevent it happening in the first place. We also continue to spend around £90bn a year on working age benefits, to ensure a strong safety net for the most vulnerable.
"The report recognises the causes of homelessness are varied and complex, so across government we are considering how to improve services, including around mental health and addiction support."
.