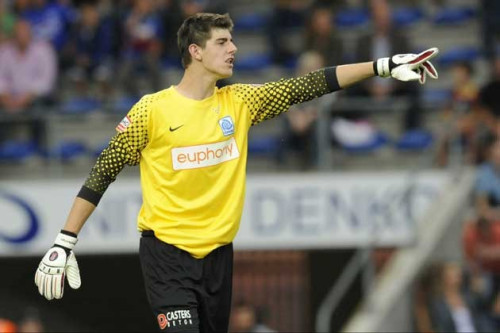 Thibaut Courtois's father claims that the young goalkeeper will not return to Chelsea unless Jose Mourinho guarantees him a starting role ahead of Petr Cech.
The 21-year-old keeper is currently enjoying a third straight season on loan at Atletico and has garnered a reputation as one of the finest stoppers in Europe.
The Chelsea boss is monitoring his amazing development and it is understood that he wants him back at Chelsea next season to fight for a place with Cech.
However, asked about Courtois' future at Stamford Bridge in an interview with Belgian news agency RTBF, his father said: "Chelsea have a good goalkeeper in Cech, so cohabitation with both is not possible.
"Alternating between the two is possible on paper but this is not what we want. This is not a situation we want.
"For now, we expect to discuss with Chelsea but it is impossible for Courtois to join a club to be their number two, and the conclusion is the same for Petr Cech."
Courtois senior also suggests that his son would like to remain at Atletico, where he has become a pivotal player – leading his side to the summit of La Liga ahead of Barcelona and Real Madrid.
"Every week he dazzles us. He produces big performances and his team continues to amaze and produce good results, in part thanks to him. This is a big success. it goes beyond our expectations," the proud dad stated.
"He is very happy. He does not bother about tomorrow, and plays it game by game and works every day to improve. He is happy to be appreciated by his teammates and the staff."
Reports in Spain recently claimed that Mourinho would allow Courtois to stay in La Liga if Diego Costa moves from Atletico to play at Stamford Bridge next season, but the Portuguese boss denied that and insists that his idea is to get the keeper back next summer.
"Courtois is our player, Diego is not our player, so I cannot speak about Diego Costa" Mourinho said.
Asked if he could see Courtois staying at Atletico one more season, Mourinho replied: "No."
Nevertheless, Courtois revealed recently that he will return to Stamford Bridge only if Mourinho is keen on use him as the number one ahead of Petr Cech.
"If I go to a team, I want to be the number one, and if something goes wrong, I'll leave my place.