Credit Agricole lopped billions in value from its books as France's third largest bank paid the price for a series of failed acquisitions before the global financial crisis.
The bank reduced the so-called 'goodwill' value of three business units by around €2bn (£1.7bn; $2.7bn) and booked a total writedown for the three months ending in December of €2.67bn.
Goodwill is an accounting convention that represents the amount paid for an acquisition over and above its market value. The group tried to reassure investors that the health of its balance sheet would not be impacted but said it earnings will take a hit when published on 20 February.
"These measures do not involve any cash outflows and do not affect the strength of the group. While the goodwill charges come primarily from complying with tighter rules, they also reflect the present macro-economic and financial environment in the relevant countries and business lines," says the bank in its earnings statement on its website.
According to the bank's investor relations presentation for the first nine months of 2012 [fig 1.], Credit Agricole had €16.9bn in goodwill on its balance sheet at the end of September.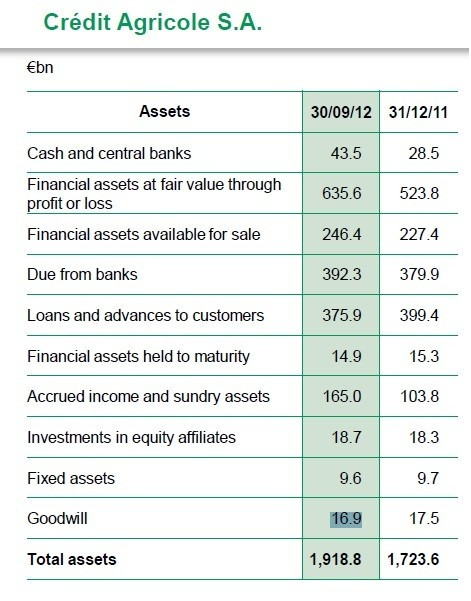 Credit Agricole decided to write down the billions of euros in compliance with stricter rules set out by the European Securities and Markets Authority, which called for improvements in disclosures after reviewing €800bn of goodwill assets at 235 companies in 23 countries across Europe.
"Good quality financial information is key for investors in understanding the financial health of an issuer in whom they hold assets or in who they may wish to invest. Goodwill, and its impairment, are key components in making a realistic evaluation of firms. In that respect ESMA's review will help in providing a more harmonised approach to the disclosure of goodwill impairment under IFRS throughout the European Union," says ESMA's Chairman Steven Maijoor in a statement this month.
Although Credit Agricole wrote down billions in balance sheet losses, the goodwill impairment does not deplete capital reserves. However it does reduce profit, and suggests the bank overpaid for a number of acquisitions.
This includes a writedown of €923m related to consumer finance and €852m for Italian retail banking, as well as a €267m writedown on its 20 percent stake in Portuguese lender Banco Espirito Santo.
Credit Agricole is the latest in a line of banks complying with stricter rules on accounting measures.
Germany's biggest lender, Deutsche Bank posted it its largest quarterly loss in four years on Thursday, after taking €1.9bn worth of writedowns on goodwill and other intangible assets.
Meanwhile, the world's largest steelmaker ArcelorMittal said in a statement in December that it will write down the goodwill in its European businesses by about $4.3bn.
Credit Agricole shares fell in the early moments of trading in Paris before stablising and then rising 1.4 percent to €7.39 each.