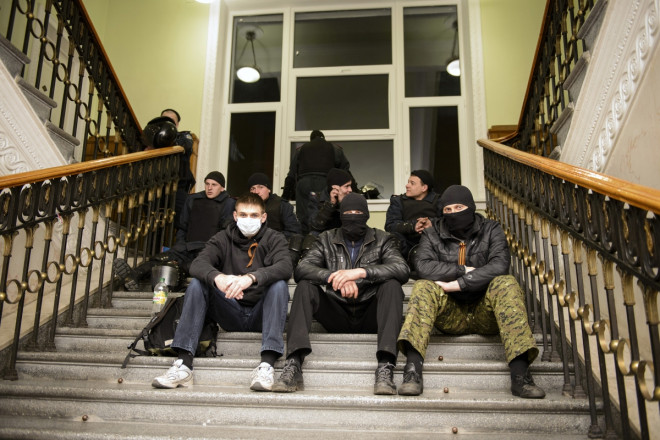 Pro-Russian protesters took to the streets in the Ukrainian cities of Donetsk, Lugansk and Kharkov and seized government buildings demanding an independent referendum for secession, as fallout from the Crimean breakaway begins to haunt Kiev.
The anti-Kiev demonstrators entered the regional state building in Kharkov amid loud cheers and some of them hoisted the Russian flag at the building.
More than 2,000 protesters gathered in Lenin Square in the centre of the eastern Ukrainian city of Donetsk calling for autonomy from the Kiev administration. Some of them were shouting "Crimea – Donbass-Russia" referring to the Donbass industrial region of Donetsk, which is the hometown of the deposed Ukrainian president Viktor Yanukovich.
The protesters shouted slogans against the recently-appointed governor of Donetsk, Sergey Taruta, calling for him to step down.
The police said they have opened a criminal case against the protesters who seized the state buildings in Donetsk.
Skirmishes broke out in some parts of the city as security forces attempted to stop the protesters from marching. Although the exact number remains unclear, a few people have reportedly been injured in the clashes.
"I came to support my people. We are against that gang [in Kiev], we are against fascism. I want Customs Union [with Russia]. Kiev is not listening to us, the European Union is not listening to us. I would be happy for talks with the EU - let them come to Donetsk, to Donbas, and listen to us. No, they are only listening to those in Kiev instead," a female protester named Lyubov told Reuters.
In Lugansk, the pro-Russian protesters are also said to have looted weapons from the offices of the security personnel.
Ukraine's interim president Oleksandr Turchynov has cancelled his trip to Lithuania amid the spiralling crisis.
The country's interior ministry has blamed Vladimir Putin for the latest unrest saying Moscow is orchestrating the events.
In a Facebook post, interior minister Arsen Avakov said: "Putin and Yanukovich ordered and paid for the latest wave of separatist disorder in the east of the country. The people who have gathered are not many but they are very aggressive."
"A cruel approach will be used to everyone who directly conducts attacks on state buildings, on law enforcers and other civilians."
The interior ministry has called an emergency meeting of all the law enforcement agencies to deal with the situation.