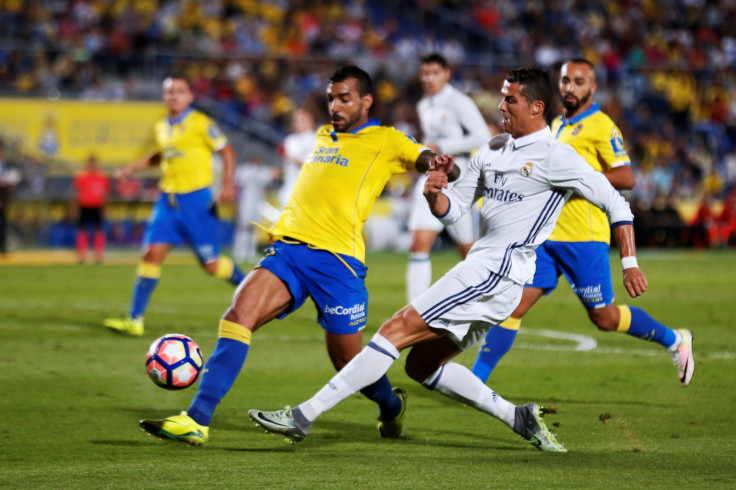 Real Madrid manager Zinedine Zidane says he took off Cristiano Ronaldo during the 2-2 draw with Las Palmas as the Portuguese forward needed rest.
Goals from Tana and Sergio Araujo cancelled out strikes from Marco Asensio and Karim Benzema as Real were held to a draw for the second successive game on 24 September.
Ronaldo was involved in the build-up to Benzema's goal in the 67th minute and appeared unhappy when he was replaced by Lucas Vasquez five minutes later.
The Portugal captain only recently returned to action after a knee injury suffered at Euro 2016 and has rarely been substituted for tactical reasons since joining Real in 2009.
Zidane defended the substitution, saying he needed the Portugal forward to be fresh for the Champions League Group F match against Borussia Dortmund on 27 September.
"We've got a game on Tuesday and I thought that it was the right time to bring him off. That's all there is to it," the Frenchman told Real's official website.
"He always wants to play and be out there on the pitch. But I've also got to think about the player and he needed to rest and think about Tuesday."
'On the right track'
The draw at Estadio Gran Canaria meant Real's lead at the top of the La Liga table was cut to just one point, with second-placed Barcelona thrashing Sporting Gijon 5-0 earlier in the weekend.
Zidane said he was not overly concerned after his team's second draw in as many league fixtures.
"We had the chance to win and we haven't done it. We are relaxed, working hard and focused on what we are doing," he stated.
"We have to realise that you can't always win, but we're on the right track and must continue on in the same vein."
Real follow up their trip to Dortmund with a league encounter against Eibar at the Santiago Bernabeu on 2 October.