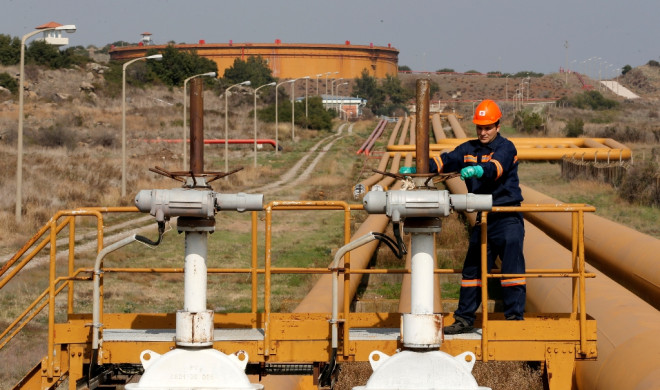 Crude oil futures inched up on 21 March, and witnessed mixed trade for the week as a whole, amid speculation over the consequences of the Ukraine crisis and concerns about the possibility of higher US interest rates.
May US crude contract added 56 cents, or 0.6%, to finish at $99.46 a barrel on 21 March.
Futures inched up some 0.6% for the week.
May Brent contract added 47 cents, or 0.4%, to finish at $106.92 a barrel on 21 March.
The European benchmark shed 1.2% for the week.
"It is remarkable to watch real assets such as oil fluctuate on myriad news from around the world," said Jonathan Citrin, founder and executive chairman at CitrinGroup.
"Certainly those trading oil are focused on [Russian President Vladimir] Putin, sanctions, and the circumstances in Crimea. Demand concerns, Federal Reserve Chairwoman [Janet] Yellen's comments, and an oil spill in...Ohio...added to the inquiry of speculators," Citrin told MarketWatch.
Commerzbank Corporates & Markets said in a 21 March note to clients: "... We see little scope for rising prices on the oil market in the short term - after all, the Crimean crisis is increasingly disappearing from the headlines, and the geopolitical risk premium - which in any case had only risen slightly - is likely to continue to decline in view of the plentiful supply on the market..."
Ukraine Crisis
Ratings agency Fitch has cut its credit rating outlook for Russia to negative, after the US announced fresh sanctions against wealthy Russian individuals, amid the ongoing Ukraine stalemate.
The 20 March Fitch downgrade came after Standard and Poor's revised its outlook for Russia to negative from stable, citing the economic and financial end result that US and EU sanctions could have on the federation's creditworthiness.
US President Barack Obama has announced additional sanctions against 20 Russians, including some of President Vladimir Putin's closest allies, punishing them for Moscow's takeover of Crimea.
Among those targeted are Putin's chief of staff Sergey Ivanov, banker Yuri Kovalchuk and lifetime friends.
Meanwhile, the European Union has announced an asset freeze and travel ban on 12 more Russians and Ukrainians.
US Rates
Earlier, on 19 March, when asked how long the US Federal Reserve would wait after asset purchases end before it begins to hike interest rates, Fed chair Janet Yellen said: "Around six months."
Higher interest rates tend to boost the US dollar, weighing on dollar-denominated oil prices.