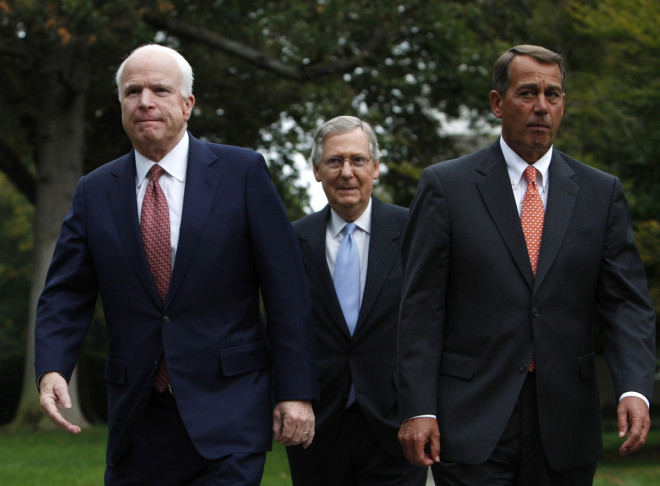 Russia has published a list of 10 US officials and politicians it has banned in response to US sanctions imposed upon the country following the Crimea referendum which Washington considered to be illegal.
The list, issued by the Russian Foreign Ministry, includes House of Representatives speaker John Boehner, senator John McCain and senior adviser to President Barack Obama, Daniel Pfeiffer.
"In response to sanctions imposed by the US Administration on 17 March against a number of Russian officials and deputies of the Federal Assembly as a 'punishment' for support of the referendum in Crimea, the Russian Foreign Ministry announces the introduction of reciprocal sanctions against a similar number of US officials and lawmakers," read the Foreign Ministry statement.
"Treating our country in such a way, as Washington could have already ascertained, is inappropriate and counterproductive.
"There should be no doubt: for every hostile attack, we will respond appropriately."
Proud to be sanctioned
Some US officials have already responded to their appearance on the list.
House of Representatives speaker John Boehner tweeted that he is "proud to be included on a list of those willing to stand against Putin's aggression".
Senator John McCain tweeted that he is also "proud to be sanctioned by Putin" and that he will "never cease" in his efforts and dedication to the "freedom & independence of Ukraine, which includes Crimea".

US sanctions against 20 Russian officials and "cronies who held significant resources" have targeted president Vladimir Putin's inner circle and a bank as the US turns up the heat in protest at Russia's invasion and annexation of Crimea.
Among those targeted are billionaire allies, friends, Kremlin ideologues and close confidants of Putin since 1993. The list includes Putin's chief of staff Sergey Ivanov, banker Yuri Kovalchuk as well as lifetime friends.
US president Barack Obama has announced additional sanctions against senior officials of the Russian regime and has signed an executive order allowing sanctions on "key sectors of the Russian economy".
In the strongest statement since the beginning of the Ukraine crisis, Obama said that Russia "must know that further escalation will only isolate it further from the international community".