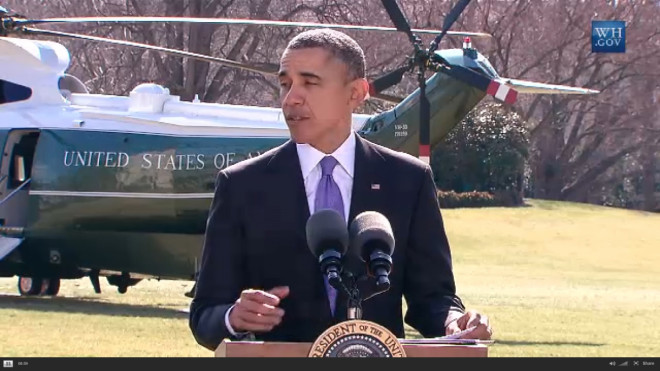 US president Barack Obama has announced additional sanctions against senior officials of the Russian regime and has signed an executive order allowing sanctions on "key sectors of the Russian economy".
In the strongest statement since the beginning of the Ukraine crisis, Obama said that Russia "must know that further escalation will only isolate it further from the international community".
"We are sanctioning a number of individuals with substantial resources and influence," said Obama. Among the targets were Russian officials, businessmen and a bank that provides support to Russian officials.
"Mr Putin should know that the Ukrainians shouldn't have to choose between the West and Russia," Obama said.
He added that diplomacy between the US and Russia would continue.
"I signed a new executive order with the authority to impose sanctions not only on individuals but on key sectors of the Russian economy," he announced.
Obama's remarks came after Ukraine's ambassador to the UN in Geneva, Yurii Klymenko, voiced concerns that Russia might be preparing a further push into Ukrainian territory.
"There are indications that Russia is on its way to unleash a full-blown military intervention in Ukraine's east and south," Klymenko said.
His comments were dismissed by an unnamed Russian diplomat in Geneva, according to Reuters.
"Russia would never invade east and south Ukraine," the diplomat said.
German chancellor Angela Merkel told parliament that EU leaders in Brussels would increase punitive measures against Russia, including politically sensitive economic sanctions.
"The EU summit today and tomorrow will make clear that we are ready at any time to introduce phase-3 measures if there is a worsening of the situation," Merkel said.
Among those expected to be sanctioned was Dmitry Kiselyov, head of state-funded Rossia Segodnya, or Russia Today, according to the Daily Telegraph.
Kiselyov made headlines with a televised remark in which he warned his viewers that Moscow was the only world power able to turn the United States into "radioactive dust".