Almost 22,000 dogs are heading to Birmingham to compete at Crufts 2016, the 125th anniversary of the world's biggest dog show. The Kennel Club says that 21,919 dogs will be taking part this year; 2% up on last year. The event has a truly international flavour, with 3,396 competitors coming to the UK from 47 different countries including, for the first time, Venezuela, Peru and the Philippines.
The number of breeds competing at Crufts continues to grow, adding to the diversity of the event, with the inclusion of two new breeds, the Lagotto Romagnolo and the Cirneco dell'Etna, which will have their own breed classes at Crufts for the first time.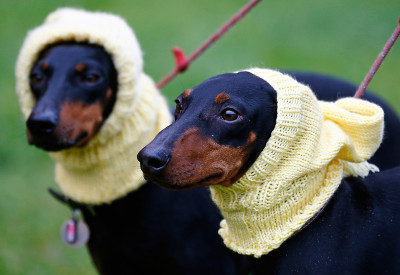 Gerald King, Crufts chairman, said: "We are delighted that entries to Crufts' 125th anniversary show remain strong and steady. We feel honoured to welcome dogs from such a wide variety of breeds, representing all corners of the globe. The fact that people travel far and wide to enter this prestigious event is testament to the place it continues to hold in people's hearts and we intend to keep going from strength to strength.
"We thank everybody who has entered the show and look forward to welcoming all the dogs and their owners who make Crufts such a wonderful event, whether it is those who have been loyally returning year after year or those who are experiencing the show for the first time."
Best in Show at Crufts 2015 was awarded to a Scottish terrier named McVan's To Russia With Love, also known as Knopa. Last year's show was overshadowed by rumours that an Irish setter named Jagger was poisoned, but this was later shown to be untrue.
Crufts 2016 runs at Birmingham NEC from 10 to 13 March, and is broadcast on Channel 4 and More 4.