A three-year-old Irish Setter, which was entered for this year's Crufts, has died after being poisoned at the contest, according to his owner.
Thendara Satisfaction, known as Jagger, collapsed and died shortly after returning home to Belgium from the National Exhibition Centre (NEC) in Birmingham last week.
An initial vetenarian necropsy of Jagger's remains has revealed poison had been placed in cubes of meat and a toxicology report is expected shortly.
Jagger's co-owners, Dee Milligan-Bott and Alexandra Lauwers, entered several dogs for this year's Crufts and they believe the intended target may have been another of their dogs – Thendara Pot Noodle – which won best of breed. Jagger came second.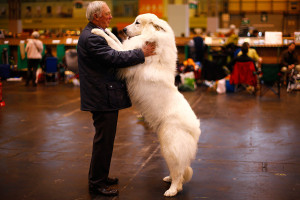 Milligan-Bott believes Jagger was poisoned by mistake because he and another dog changed places on the bench when the other dog became agitated about being near a bitch in heat.
"All the dogs were all running and playing together and Jagger seemed a bit tired, unable to keep up with the others," said Milligan-Bott, who has bred dogs for 30 years. "Three or four hours later after getting back to Belgium he collapsed and by the time the vet arrived he was dead.
"The post-mortem showed that two or three different poisons were used and that it is likely it was administered on Thursday morning; we're now waiting for exact toxicology reports. Whoever did this knew what they were doing, trying to get exactly the right type of poison with a slow release.
"They take this kind of thing far more seriously in Belgium and the police and Belgian SPCA searched Alex's house and took blood from all the other dogs."
Police in Belgium are investigating and it is believed CCTV footage of the event will be scrutinised.
Kennel Club secretary Caroline Kisko said: "We are deeply shocked and saddened to hear of Jagger's death and our heartfelt sympathies go out to his owners.
"Whilst we are unclear of exactly what happened, we understand that a toxicology report is due next week and that this matter has been reported to the police – we will work with them and help however we can. We are in contact with the owners and will do all we can to support them at this sad time."
The BBC presenter Clare Balding, who is commentating on the event, tweeted: "Everyone at #Crufts2015 horrified at death of Irish Setter Jagger & post-mortem found poison. Awful for all concerned."