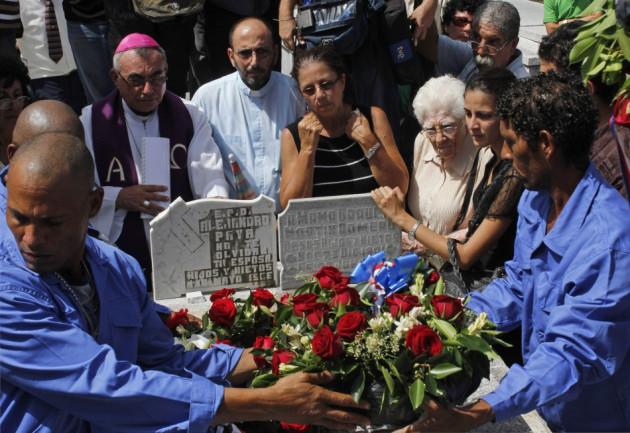 Over 50 Cuban dissidents have reportedly been arrested after the funeral of prominent activist Oswaldo Paya, whose sudden death in a car crash remains shrouded in mystery.
The dissidents were met by police as they walked from the funeral service to the cemetery, before being questioned and placed under arrest.
It is alleged that those arrested had been shouting slogans against the government prior to their seizure by police.
Guillermo Farinas, Paya's fellow activist whose hunger strikes have highlighted the issue of political imprisonment in Cuba, is among the 51 arrested, according to AFP.
Paya, 60, died along with another dissident, Harold Cepero, when their hire car went off the road and struck a tree on 22 July.
The driver, a Spanish national, has been taken into custody by Cuban police for questioning after being released from a Havana hospital.
A short report published by a government newspaper offered no explanation on how he lost control of the car.
Two politicians - Spanish national Angel Carromero Barrios and Swede Jens Aron Modig, both 27 years old - were also in the car and survived.
Barrios is a political activist with the youth branch of Spain's ruling Popular Party. He was being held in a detention centre in the city of Bayamo.
'It was not an accident'
Paya's son, also called Oswaldo, claimed the accident was caused by a truck driver repeatedly hitting their car and forcing it off the road.
"The two survivors did not lose consciousness, and they said they were hit by a truck," he told the BBC.
"It was not an accident. They say they were hit several times."
He added that over the years his father had received "multiple death threats" due to his concerted criticism of former Cuban dictator Fidel Castro.
In 2002 Paya confronted the Cuban parliament with a non-violent petition, signed by 11,000 people demanding political change. He later delivered a second round of petitions, containing more than 14,000 signatures.
The archbishop of Havana, Cardinal Jaime Ortega, praised Paya as a Christian political activist during the funeral.
"Oswaldo had a clear political vocation and, as a good Christian, this did not distance him from his faith or religious practice," Ortega said.
"On the contrary, he always looked to his Christian faith as inspiration for his political options."