Barclays Bank has topped the list of Britain's worst banks according to customer complaints yet again as the number of its dissatisfied customers continues to rise, according to regulator the Financial Services Authority (FSA).
Overall complaints made to banks and building societies are also increasing.
Others in the top 10 include HSBC, Santander and Capital One (Europe), according to data from the second half of 2011 compiled by the FSA.
Two taxpayer-owned banks also feature in the list: Lloyds TSB, of which the government owns 41 percent, and the Royal Bank of Scotland, in which the government has an 83 percent stake.
The total number of complaints to banks and building societies for that period is 2,167,376.
This is the fourth consecutive six-monthly increase, from 1,610,813 in the first half of 2010.
For the second half of 2011, Barclays received a total of 281,484 complaints, while there were 251,563 complaints about its products and services in the first half of the year.
Lloyds TSB was second, with 240,923 complaints received in the last six months of 2011.
Bank of Scotland, which is owned by Lloyds Banking Group, is third, with 206,281.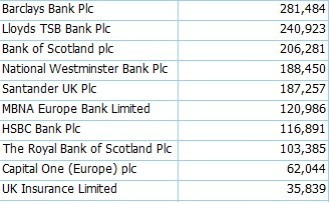 "We will do better and continue to work hard to tackle those issues that most rankle with our customers," Antony Jenkins, chief executive of Barclays retail and business banking, said.