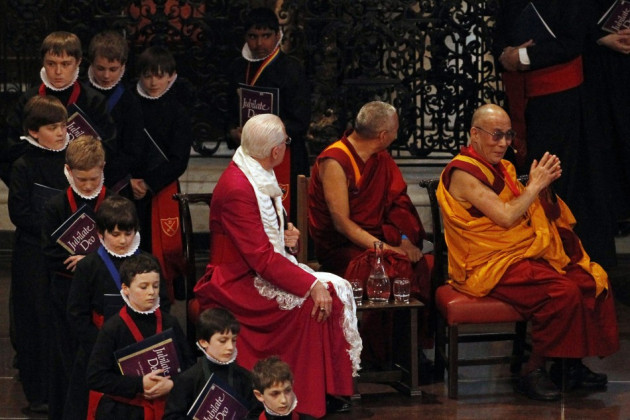 China has released a documentary accusing the Dalai Lama of coordinating a wave of self-immolations by Tibetans.
The documentary by China Central Television includes footage of the protests that have swept the country against Chinese rule. It also features interviews with Tibetans, who described contacting monks living in exile and sending them pictures of prospective protesters.
A voice in the background quotes comments attributed to the Dalai Lama in support of the self-immolations.
The state-owned Xinhua news agency harshly criticised the spiritual leader of Tibet after he received the Templeton Prize in the UK and met British Prime Minister David Cameron.
"The lives of ordinary Tibetans were always considered dirt cheap under the Dalai Lama's rule in old Tibet," read an article from Xinhua entitled Dalai Lama apathetic toward loss of life.
"To encourage self-immolations, they even offered compensation for the dead. This is clear evidence that the chain of tragic events was politically motivated and the Dalai Lama's separatist forces were behind them," the article claimed.
A top Tibetan official was also quoted by the state-run English newspaper China Daily as saying that Beijing will not discuss the situation in Tibet with the Dalai Lama while he continues to "promote separatism" and incite monks to set themselves alight.
Qiangba Puncog, chairman of the standing committee of the national people's congress from Tibet, accused the Dalai Lama and his followers of working to separate Tibet from China and stated: "The union of China and the future of Tibet are not negotiable."
The Dalai Lama received the £1.1 million Templeton Prize for "affirming life's spiritual dimension" at a ceremony held at St Paul's Cathedral. He announced he would donate all his prize money to the charity Save the Children in India.
When asked whether acts of self-immolation should continue, the Dalai Lama replied: "This is a sensitive political issue and I think my answer should be zero."
Since February 2009 more than 35 Tibetans have set themselves on fire to protest against Chinese rule in Tibet.
Many analysts claim the immolations, which are forbidden in Tibetan Buddhism, are in fact an expression of frustration and anger against the Dalai Lama advocating a diplomatic policy of negotiating with Beijing.