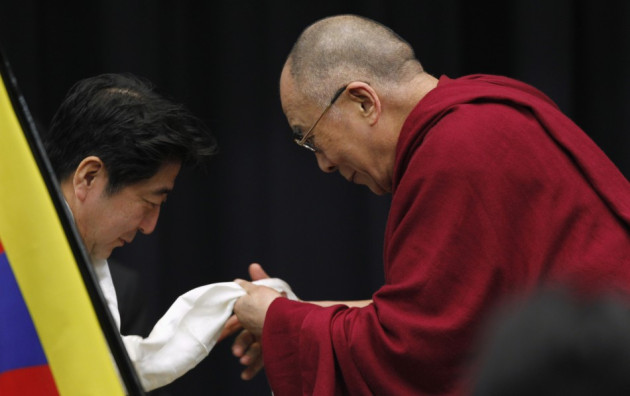 The Dalai Lama has refuted claims from the Chinese government that he instigated the latest wave of self-immolations in Tibet ahead of the 18th Communist Party congress in Beijing.
Speaking in Tokyo, the exiled Tibetan leader also urged members of Japan's parliament to visit Tibet and investigate why people are setting fire to themselves in such numbers.
The speaker said that he is "always" asking ministers in Beijing to "thoroughly investigate" the problems in Tibet, and find out "what is the cause of these sad things."
However he added that the apathy of "narrow-minded Communist officials" means that foreign involvement is now necessary.
Among the Japanese lawmakers present to hear the Dalai Lama speaker were opposition party leader and prime ministererial hopeful Shinzo Abe, an outspoken critic of China.
"I promise to continue to support Tibet and do my best to change the situation in Tibet in which (people) are oppressed," he said ahead of the conference, according to AFP.
However Chinese foreign ministry spokesman Hong Lei revealed that Beijing has lodged an official complaint against Tokyo in the aftermath of the Dalai Lama's visit.
"China is opposed to any country or any individual providing a stage for his separatist moves," Hong said, adding that the 77-year-old spiritual leader was taking Japan's side in the ongoing territorial dispute over the ownership of Daigu islands
"Japanese right-wing forces have been blatantly supporting Dalai's anti-China separatist activities and interfering in China's internal affairs, which China strongly condemns.
"The Japanese government has been conniving at the separatist activities of the Dalai Lama and the anti-China activities of Japan's right-wing, which goes against the principle and spirit of China-Japan strategic relations of mutual benefit."
Chinese media said the Dalai Lama called the islands by their Japanese name during a press conference in Yokohama, but an AP wire review of a tape of the event showed he referred to them only as "the islands".