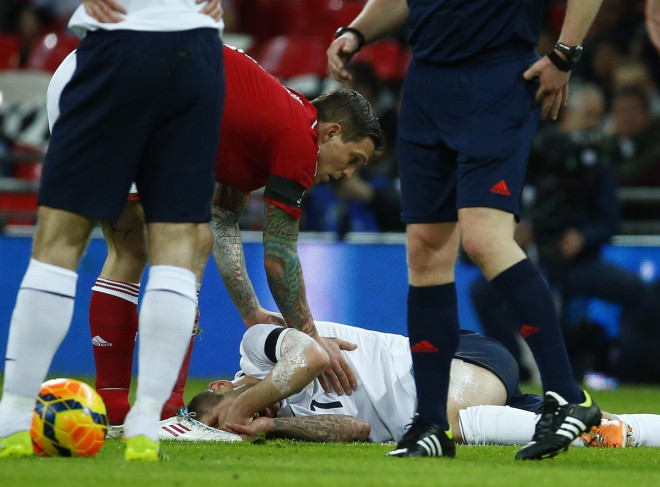 Liverpool defender Daniel Agger has defended his challenge on Jack Wilshere that left the Arsenal midfielder side-lined with a broken foot, insisting that he won the ball.
Wilshere, 23, went down in agony following a heavy challenge from the Reds' centre half just 12 minutes in to England's 1-0 win over Denmark on Wednesday night.
The Arsenal midfielder remained on the pitch until the 59th minute but his club revealed on Thursday afternoon their player had suffered a hairline fracture to the navicular bone in his left foot that has ruled him out for a minimum of six weeks.
The injury marks a devastating blow to Arsenal's hopes of challenging for the Premier League title and leaves Wilshere's World Cup hopes in doubt, but Agger insists his challenge was a genuine attempt to win the ball.
"It was 50-50. You have to go for those challenges," Agger told the Daily Mirror. "I was going for the ball and I think I got the ball, but the referee didn't."
Wilshere could end up missing the rest of the Premier League campaign as a result of the challenge. Arsenal confirmed that the midfielder will require a period of six weeks rehabilitation before he will start regaining match fitness, suggesting he may not return to action until May.
England manager Roy Hodgson refused to lay the blame at the feet of Agger following the incident and is hoping the Gunner recovers as quickly as possible before he announces his final England squad on May 13.
"It's always sad when you have a player come from a club, use him on international duty and he gets an injury," noted Hodgson.
"It's very sad and disappointing for Jack and Arsenal but unfortunately these things happen.
"It was an honest challenge but he took a nasty kick and I can only hope he recovers as early as possible."