Daniel Levy warns Tottenham will follow Arsenal in curbing spending in new stadium
The Spurs chairman warns 61,000 crowds will not immediately enrich the club's finances.
Tottenham Hotspur chairman Daniel Levy expects the club to face the same financial restrictions which beset Arsenal when they move into their new 61,000-seater stadium from the 2018-19 season. The Gunners began playing at the £390m Emirates Stadium in 2006 but were forced to offload a series of high-profile players in order to balance the books, with the likes of Thierry Henry, Cesc Fabregas and Robin van Persie all leaving the club.
Spurs' new home will cost an estimated £750m, and though it will see a significant upgrade in their surroundings, it will cause substantial debt which the club must manage. A deluge of first team players have recently signed new contracts, including Harry Kane, Dele Alli and captain Hugo Lloris – moves which will enhance their value in the transfer market.
Levy does however believe the new stadium can also help attract some of the best players in the world to Tottenham, despite the expectation that some individuals may have to be sold. "Everyone thinks that just because you have a bigger stadium you get more revenue and you're going to have lots more money," he told NBC.
"Obviously when you're spending this amount of money on a new stadium we have a lot of debt that we're going to have to repay. Over the medium to long term obviously that gives you greater financial security but also for as a player, if you're playing for a big club you want to play in a big stadium."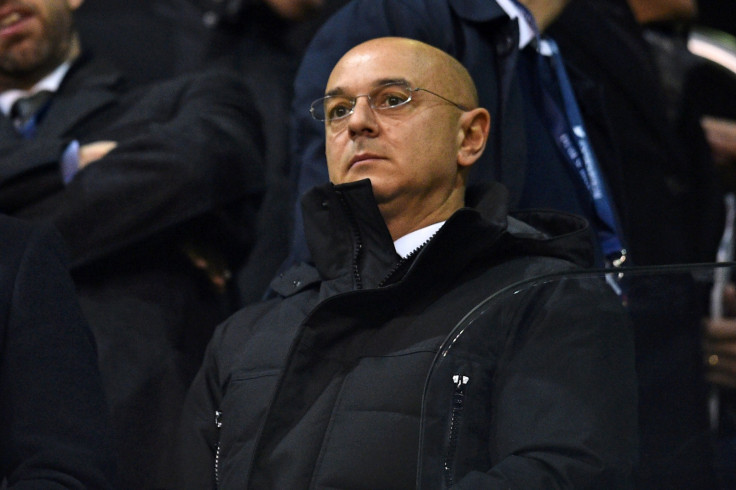 The new build will see Tottenham surpass Arsenal's Emirates as the biggest club ground in London, by 568 extra seats, but Levy has refused to confirm whether the capacity was intended to surpass their near neighbours. "That wasn't the sole driver [building a bigger stadium than Arsenal]," Levy told NBC. "The reason was simply that we have a season ticket waiting list of 58,000 people and we had to work out how to have a bigger stadium, and clearly we went for the maximum we could.
An addition revenue stream for Tottenham will come from an agreement to host fixtures from the National Football League's regular season. At least two games will be played every year on the new site in a unique 10-year deal agree between the north Londoners and the NFL. And Levy has revealed how Tottenham canvassed opinion among teams in the sport before beginning building work.
"We appointed Populous, who have built a lot of the stadiums in the United States and we needed someone who had expertise on building NFL stadiums as well as UK stadiums, so bringing that together was important and a priority," he added. "The Dallas Cowboys stadium is magnificent, the amount of detail they went into that obviously caught our attention The new [Minnesota] Vikings stadium, the way they did their website was fantastic. We're tried to learn and we've had lots of conversations with those owners to see how we can learn from those experiences."
© Copyright IBTimes 2023. All rights reserved.