Red Bull's Daniel Ricciardo has won the Azerbaijan Grand Prix after an incident-strewn race in Baku which saw Sebastian Vettel and Lewis Hamilton clash.
Ricciardo recorded his first win of the season with Valtteri Bottas, at one point left in last after a frenetic start to the race, overtaking Lance Stroll inches before the finishing line to take second place with the 18-year-old Williams driver settling for third.
But the incident involving Hamilton and Vettel that led to the race being red-flagged after just 22 laps will dominate the headlines, after the championship leader crashed into the back of Hamilton before pulling up alongside him and deliberately driving into him.
That incident saw Vettel penalised with a 10-second stop and go penalty for dangerous driving. Despite the sanction, the the German driver finished in fourth place ahead of Hamilton in fifth to maintain a narrow 14-point lead at the summit of the Drivers' Championship, after the Briton was forced to stop for new head rest while leading on lap 32.
After a relatively calm opening 12 laps, the Safety Car was called out three times over the next ten during a period of the race littered with incident – most notably the collision between the championship leaders.
Mechanical issues for Toro Rosso's Daniil Kvyat forced the first after he stopped on the track with some frantic battles taking place after the restart as Kimi Raikkonen, Felipe Massa and Esteban Ocon clashed in a three-wide scramble for fourth that sent debris flying off the front wing of Raikkonen's car, which also suffered a rear puncture.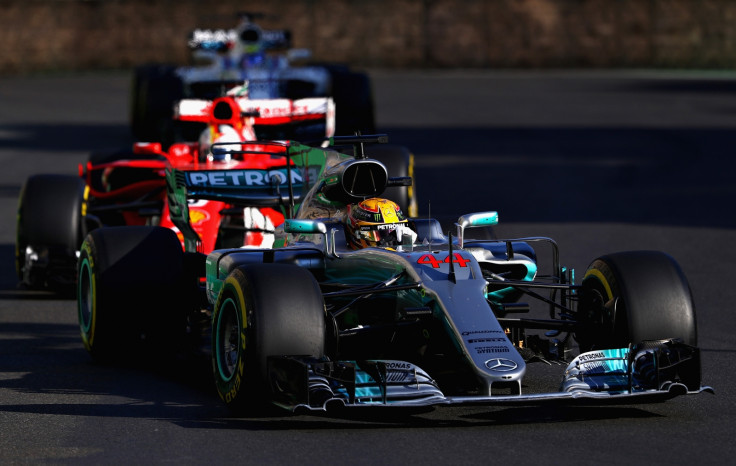 The talking point of the afternoon came shortly after when Vettel ran into the back of leader Hamilton after he had braked ahead of another Safety Car. Frustrated, the German berated the Mercedes driver before pulling up alongside him and ramming into him from the right hand side.
"He brake tested me," shouted Vettel over the team radio. "What the f**k is going on?" After the race was temporarily halted, Hamilton was heard saying: "Vettel literally came alongside me and hit me," going onto air his frustration with the leniency of the 10 second penalty towards race director Charlie Whiting.
"A 10-second penalty is not enough for driver behaviour like that,' he said. 'You know that, Charlie."
After the restart, Hamilton's efforts to secure his fourth victory of the season disintegrated when he was forced to pit because of a loose headrest.
That moment opened up the podium with Ricciardo taking full advantage. There was a bitter sweet ending for Stroll, who was pipped to second place in the final seconds but was still named driver of the day after becoming the youngest rookie to race to a podium finish.