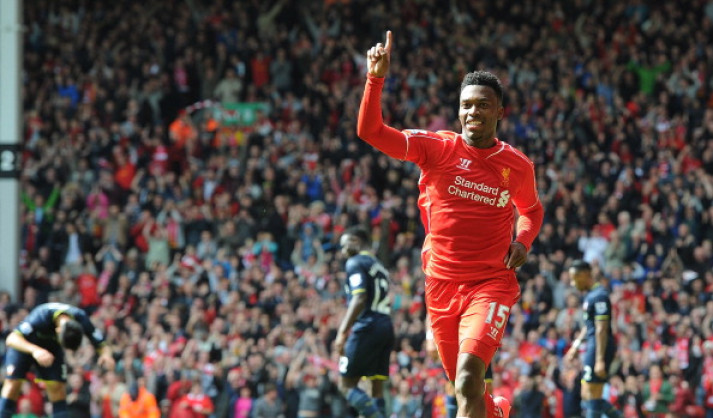 Liverpool manager Brendan Rodgers has confirmed he could be without striker Daniel Sturridge for the next four games as the injury he suffered during the international break appears to be worse than first thought.
The 25-year-old striker missed England's Euro 2016 qualifying 2-0 victory over Switzerland on Monday 8 September after injuring his thigh during a training session at St George's Park.
Even though Sturridge himself recently claimed through Instagram that he will "Be back soon...", the manager has confirmed the striker will be on the sideline for two to three weeks after recent scans revealed a minor thigh injury strain.
"He's one to two weeks away. It's disappointing for him because he's worked so hard in pre-season and looked very fit and strong in the last game against Tottenham," Rodgers said to TalkSport.
"We're disappointed because we feel it's an injury which could have been prevented. Clubs work differently to international teams, it's the recovery strategy. When we look at our players here, we look at them individually, in terms of what their needs are.
"Some players are very fast, they will have a second day, active recovery, whereas other players can work on that [second] day. When you're a type of player like Sterling or Sturridge you need to recover them differently."
Sturridge is expected to miss around four games but may return just in time for the Merseyside derby on Saturday 27 September.
The Merseyside team hosts Aston Villa on Saturday 13 September in search for their third Premier League victory of the season while on Tuesday 16 September, they face Ludogorets at Anfield in their return to the Champions League.
Sturridge is also doubtful for the Premier League visit to West Ham on 20 September and the Capital One Cup game against Middlesbrough on 23 September.
The former Chelsea and Manchester City forward has played every minute of Liverpool's Premier League campaign this season, scoring a crucial goal in the opening victory over Southampton.
He suffered a series of hamstring injuries last season but managed to scored 24 goals.
Rodgers may give a starting role to Rickie Lambert alongside Mario Balotelli against Aston Villa.