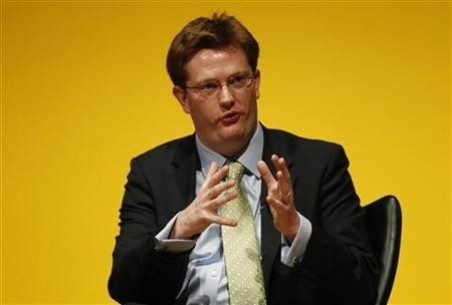 Danny Alexander is plotting to replace Nick Clegg as Liberal Democrat leader, insiders have claimed.
Alexander, the chief secretary to the Treasury, has been canvassing opinion among MPs with a view to taking over from his political soulmate, the deputy prime minister, according to sources.
Alexander\'s closeness to Clegg helped secure him his senior position in the coalition government after David Laws was forced to resign over an expenses scandal.
According to the Sunday Times, Alexander has been asking senior Lib Dems if they would back him in a bid for the leadership.
The news will come as a fresh blow to Clegg, whose party continues to put up a dismal showing in opinion polls.
Not even its conference in Brighton could deliver a meaningful bounce.
Clegg\'s personal rating stands at minus 61, according to a YouGov poll. Nationally, the party under him continues to get above 10 percent.
The failure to win back support has led to murmurs about Clegg being ditched as Lib Dem leader by 2014, in a bid to prevent disaster at the 2015 General Election.
Liberal Democrats want to fight that campaign on an individual platform, distinct from the Conservatives, but Clegg is seen by some party members as tainted by association with the Conservative Party, which leads the coalition.
Similar perceptions are likely to dog Alexander, who is a popular figure among Tories. He received a mixed reaction at the Lib Dem conference, despite pledging to ramp up efforts to chase tax dodgers who stash wealth in offshore bank accounts.
He will need to win over sceptical party members, many of whom prefer the left-leaning business secretary Vince Cable. He is popular with the grassroots for his attacks on the Conservatives and for supporting a mansion tax.
Cable admitted recently to having contact with Labour party figures.
Energy secretary Ed Davey and party president Tim Farron are also well positioned to mount bids for the leadership.