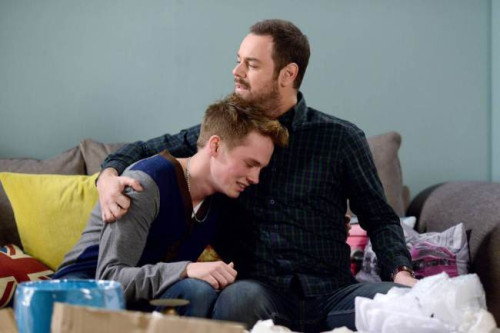 Eastenders newcomer Danny Dyer is not facing a "dressing down" after hitting back at homophobic comments on Twitter, show bosses have confirmed.
The actor, who plays Queen Vic landlord Mick Carter on the BBC soap, is at the centre of a gay storyline which will deal with the aftermath of his son Johnny coming out as gay.
In emotional scenes recently aired, viewers saw Mick comfort his son as he broke down in his arms when the truth was finally revealed.
While some viewers hailed Dyer and Sam Strike's raw and honest performances, some twitter trolls responded with vile abusive tweets.
In a defiant tweet, Dyer told his homophobic followers exactly what they could do with their opinions with a detailed diagram.
"Thank u all so much for the love…overwhelming...hope the show tonight gives some people the confidence to be true to themselves & be happy.
Although it was reported that the hardman's actions landed him in hot water with the BBC, who regarded the reply as inappropriate, an EastEnders spokesperson insisted it was untrue.
"There's no truth in the story that Danny will be getting a dressing down from bosses," they told Digital Spy.
This is not the first time writers and cast have defended the soap's new gay romance storyline in recent weeks.
Earlier in Januray, Pete Lawson, who wrote an episode featuring a same-sex kiss, took to twitter after viewers complained.
He tweeted: "2014, and gay teens kissing on a soap still draws complaints. Makes me even prouder to have written that ep."