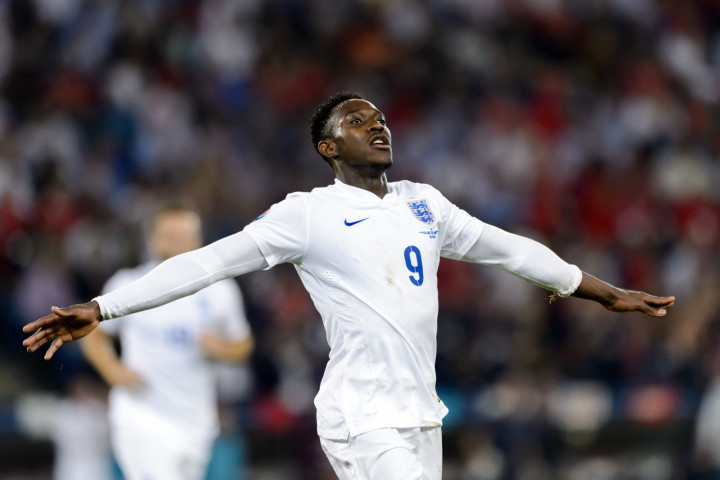 Danny Welbeck's attempts to convince Arsenal manager Arsene Wenger he can lead the club's attack in the absence of Olivier Giroud began in ideal fashion as the 23 year old ended his 20-match goal-drought with a double to help England beat Switzerland in Basel.
Welbeck joined the Gunners on deadline day in the transfer window but competition from Yaya Sanogo, Lukas Podolski and Joel Campbell means the ex-Manchester United forward must convince in order to earn a starting role at The Emirates Stadium.
And ahead of making his Arsenal debut against Manchester City this weekend, Welbeck scored two second half goals at the point of England's attack to provide Wenger with food for thought ahead of the resumption of the Premier League.
Giroud will be out until the turn of the year with a broken leg and in order to ignite Arsenal's domestic and European ambitions they require a forward capable of making an immediate impact.
And after replacing the injured Daniel Sturridge for England's opening Euro 2016 qualifier, Welbeck staked a claim for a starting role with club and country with an imposing performance.
"It was good to get on the score sheet," he told Sky Sports. "Obviously I want to be scoring goals and playing further up the pitch and I was to have the opportunity to do that. Previous games perhaps I've been playing a bit too deep and it doesn't suit my game as much."
Speaking prior to the game, Welbeck added to the Sunday Times: "I prefer to play as a centre-forward. We'll see (about his scoring rate) when I get my opportunity to do that. I've never had the opportunity to get a consistent run of games as No 9 but have faith in my ability.
"I'm no longer a young player. There are a lot of younger players than me in the squad, by quite a few years," the new Arsenal forward added.
"It's good to see that youngsters are being given the opportunity to play in the national side. You see in training the outstanding talent they've got and how it can have a massive impact.
"Coming to this stage of my career, I really want to push on and be the best I can be."