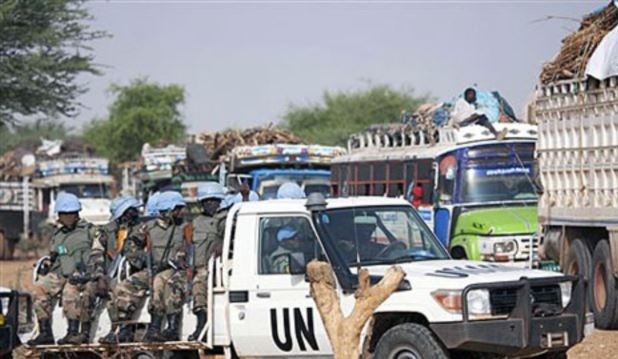 Sudanese rebels have blamed government-backed militia for the assault on a UN patrol in which seven Tanzanian pacekeepers were killed on Friday in the western region of Darfur.
A further 17 UN peacekeepers were injured in the what was deadliest single attack since the force was deployed in 2008.
The attack took place some 15 miles (25km) west of the town of Khar Abeche, when UN forces came under intense fire as they patrolled from their base at Manawashi, north of Nyala, said a spokesman for Unamid, the joint African Union-UN mission.
The assault included sustained heavy fire from machine guns and possibly rocket-propelled grenades, UN forces spokesman Chris Cycmanick said. All seven of the dead were Tanzanian.
Reinforcements later arrived to rescue the wounded, which included two female police advisers, the force said.
UN Secretary General Ban Ki-moon said he was "outraged" to learn of the attack and "expects that the government of Sudan will take swift action to bring the perpetrators to justice".
No group immediately claimed responsibility for the assault. However, one rebel group in Darfur blamed government-backed militia for the attack, saying the area was under government control..
Abdullah Moursal, a spokesman for the Sudan Liberation Army's Minni Minnawi faction, said: "We don't have any doubt that the act was done by government militia, because militia are deployed in Khor Abeche area. This area is completely under government control."
The 16,500-strong Unamid force is composed of troops and military observers and over 5,000 international police, and was established to protect civilians, establish security and promote human rights.
Peacekeepers have come under repeated attack in the region since international involvement began in 2008. A Nigerian peacekeeper was shot dead in April in East Darfur State.
"The mission condemns in the strongest possible terms those responsible for this heinous attack on our peacekeepers," said Mohamed Ibn Chambas, a joint special representative of the force.
"The perpetrators should be on notice that they will be pursued for this crime and gross violation of international humanitarian law."
More than 300,000 people have died in Darfur, mostly from disease, since rebel tribes took up arms against the Khartoum government ten years ago, accusing it of discrimination and neglect.
The International Criminal Court has issued arrest warrants for the president, Omar Hassan al-Bashir, and several of his aides on war crimes charges.