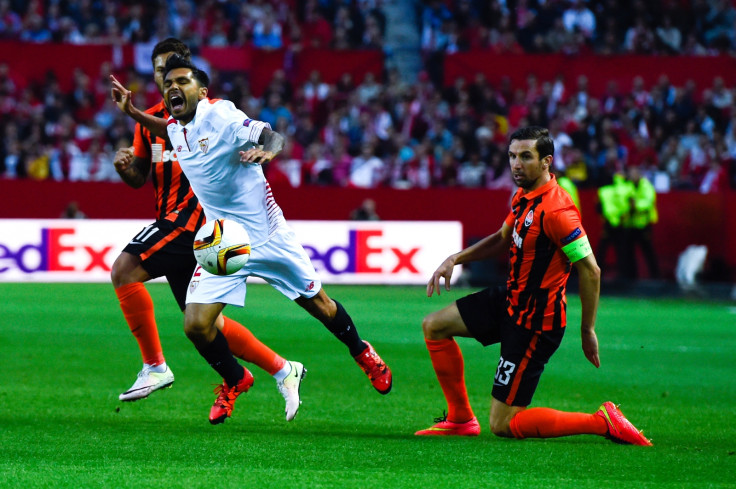 Darijo Srna has confirmed his decision to stay at Shakhtar Donetsk despite persistent reports linking him with a January move to Barcelona. Luis Enrique has also suggested that out-of-favour Aleix Vidal may have a chance of resurrecting his career at the Camp Nou after the Spaniard impressed during the Catalans' 5-0 win over Las Palmas on Saturday (14 January).
Shakhtar boss Paulo Fonseca confirmed in December that Barcelona were interested in signing the Croatian international during the current January transfer window.
Luis Enrique has been forced to play versatile midfielder Sergi Roberto in the role in the first half of the season after falling out with Vidal.
Mundo Deportivo had previously reported that the Ukrainian side were also ready to let Srna move to Barcelona as a free agent as a reward for his contributions to the team since arriving from Hajduk Split in 2003.
However, last week the Spanish publication claimed the 34-year-old was having second thoughts over the move as the La Liga giants were offering him a half of his current salary at Shakhtar to join them.
Srna confirmed his decision over the weekend after claiming he had listened to his "heart" to continue his career at Shakhtar.
"I have listened to my heart and it led me to stay at Shakhtar," the 34-year-old told Ukrainian station Football TV as quoted by Mundo Deportivo. "I am happy with my decision.
"I am not going to comment on interest from Barcelona because it is not professional. The most important thing is what I decided and I want to stay at Shakhtar."
Srna's decision could be a fillip for Vidal to turn his flagging career around at Barcelona and convince Enrique he deserves a place in his plans.
He made the most of his second La Liga starting appearance of the campaign to prove his boss wrong during the 5-0 win over Las Palmas, scoring a goal and was arguably the best player on the pitch while replacing Sergi Roberto in the right-back position.
Enrique, speaking after the game, admitted that he might not have been totally fair with the Spaniard during the season and suggested that he could have more chances to play in the near future.
"Aleix Vidal is physically very strong with a very high rhythm. He is in great physical condition and trains really well. He's proved his manager wrong and he's ready to compete," Enrique said. "He was excellent today. It's great for me to have all of my players ready and I'm convinced that they can contribute."