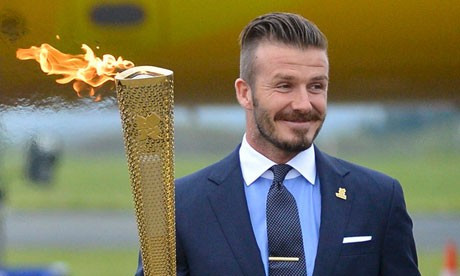 He may have missed out on a place on the Great Britain football team, but David Beckham has confirmed he will have a role in the opening ceremony of the London 2012 Olympics.
The former England captain announced the news at the Beyond Sport summit, an event organised to celebrate young sportsmen and women in the run-up to the Games.
Although pleased about his role in the ceremony, Beckham, 37, remained tight-lipped about what exactly he will be doing on the night.
Said Beckham: "It is some kind of role in the opening ceremony which I am honoured to be involved in because, obviously, I was involved in the start process with this seven years ago.
"And for Seb [Coe] to have kept me involved, I'm very proud of that."
Despite playing a major role in helping to secure the Olympic Games for London in 2005, the L.A. Galaxy star was excluded from the Olympics squad.
Under Olympic rules, each squad is allowed only three players over the age of 23. Great Britain manager Stuart Pearce has selected Craig Bellamy, Ryan Giggs and Micah Richards to fill his over-age quota, ahead of Beckham.
Pearce's decision has received widespread criticism from fans who believe Beckham, with 115 international appearances and for helping London secure the 2012 Olympics, deserved a place in the squad.
"He's a national hero. I would've thought Beckham would be first choice because of his huge contribution to getting the Olympics," said Beatles legend Sir Paul McCartney.
"But some idiot decided otherwise.
"I feel a bit sorry for the three over-23s because we're going to be looking at them and saying, 'That should've been Beckham'."