Tory Conference: David Cameron Echoes Margaret Thatcher in 'Land of Opportunity' Pledge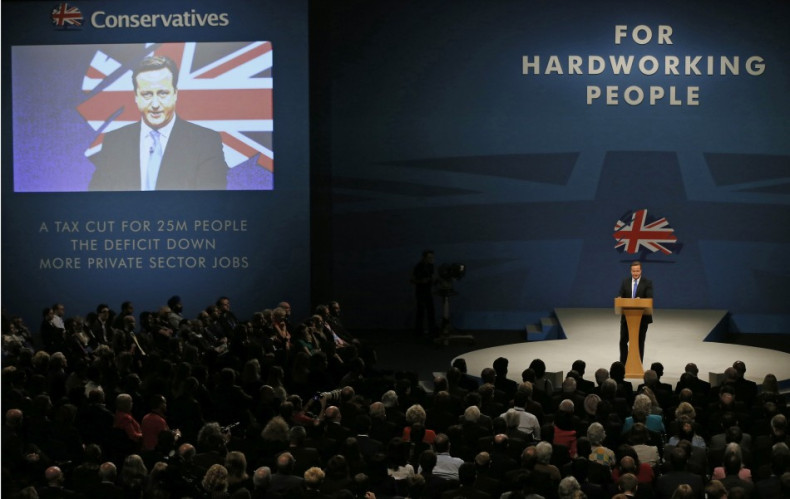 Prime Minister David Cameron made a pitch to voters at the looming 2015 election with his ambition to make Britain the "land of opportunity".
In a speech to Conservative party delegates at the close of their annual conference, Cameron made numerous references to the late Margaret Thatcher, who died in April, and the popular narrative that she revived Britain's economy when she was prime minister in the 1980s.
"She was the greatest peacetime prime minister we ever had," he said, and claimed that his policies to tackle the UK's housing shortage were tied to his views of aspiration.
Thatcher was well known for her push to encourage home ownership with the Right to Buy scheme, which allowed social housing tenants to buy their properties from the government.
"Our dreams are about helping people to get on in life," said Cameron, adding that "this the party of aspiration is going to finish the job on home ownership that we started".
He claimed that the way people measured their prosperity was through home ownership and were finding it difficult to get on the housing ladder.
"Generation Y is starting to become generation 'why do we bother'?" he said.
Even before his keynote speech, Cameron launched a staunch defence of his controversial housing policies in a BBC interview with political journalist Nick Robinson.
Cameron told Robinson that a government guarantee offered to banks on their mortgage lending, part of the Help to Buy scheme, was intended to put home loans within the reach of first time buyers.
Wealth Creator and Tough Leader
The prime minister made other allusions to the bitter political battles of the early 1980s and the image of Thatcher being a decisive leader.
He said "these past years have been a real struggle" but that he was committed to "not job done but job begun" in fighting to make the UK a better country.
Welfare reform and public spending cuts were listed as the areas where Cameron said that he had to be hardnosed in order to reduce Britain's deficit that has so far come down by a third.
Old Battle Lines
In terms of concrete new policies, Cameron offered little that was original or interesting to Tory voters.
He promised to keep cutting the deficit, grow the economy and make tax cuts to help start British businesses.
Labour's economic ideas were dismissed as "all sticking plasters and quick fixes, cobbled together for the TV cameras" and labelled as "1970s-style socialism", a line which received much applause from Tory delegates was.
"It is Labour who wrecks our economy and we Conservatives who clear it up."