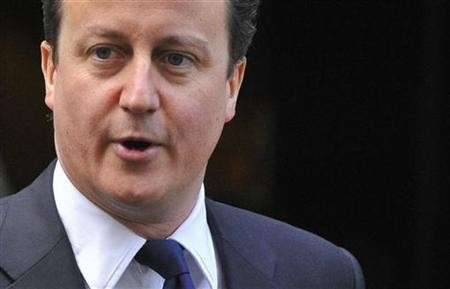 Prime Minister David Cameron is running out of time to convince fellow European leaders to freeze the EU's budget as the crunch 22 November summit fast approaches.
Failure to reach an agreement that would freeze or cut the EU budget would be a serious political blow for the prime minister, who is under pressure from his backbenchers and electorate not to hand over more cash from the country's austerity-stricken coffers to Europe.
Bloomberg reported that the prime minister had already been "hitting the phones" over the weekend as he tried to broker a deal between EU leaders.
Over Saturday and Sunday he spoke with leaders from France, Germany, Holland, Sweden, and Denmark as he pushes for a budget freeze on the EU's spending for the next seven-year cycle.
All of those countries, as well as Britain, put more into the EU budget than they get out.
"There may be further calls over the next couple of days," a spokesman for Number 10 told IBTimes UK.
Cameron has warned EU leaders that he is prepared to veto any budget that precipitates an increase in spending, as suggested by the Commission, which wants a rise to €1.03tn (£828bn) from 2014 to 2020.
Herman Van Rompuy, the EU president, has suggested slashing the current budget by €21bn to €973bn. Cameron has welcomed this suggestion, although he has suggested that even more could be taken off by reducing the number of civil servants.
After a House of Commons debate on 31 October, Britain's lawmakers voted for a cut in the EU's spending, with more than 50 of Cameron's own MPs voting against him.
Cameron insists that the most realistic outcome for Britain is a budget freeze, rather than the real-terms cut demanded by Labour and Conservative rebels.
However there is popular anti-EU sentiment among the British population, exacerbated by the coalition government's stinging austerity programme which has seen billions wiped off public spending in order to reduce the country's budget deficit, plunging the economy into a double-dip recession.
Many Britons are left angry at the notion that while they endure austerity, the EU will maintain or even increase its level of spending.
Britain is a net contributor to the EU budget, which includes controversial agricultural subsidies for inefficient farmers in countries such as France, meaning it puts more money in than it gets out.
The EU is perceived by eurosceptics as a bloated and inefficient bureaucracy that infringes on national sovereignty. These eurosceptics, many of them Conservative MPs, feel vindicated by the sovereign debt crisis sweeping through the 17-member eurozone within the EU.
CBI conference
Cameron used his speech at the annual conference of Britain's biggest business lobby group, the Confederation of British Industry (CBI), to bemoan "excessive European legislation" and say that he is working to burn bureaucracy.
"It holds us back. It clogs things up. So we are fighting back hard," Cameron told the conference hall.
"This is about finally getting that ratchet of European legislation to start going in the opposite direction and every summit I go to, every meeting I have with other leaders I am making that happen."
Despite Cameron's recent tough rhetoric on the EU - which has seen him tell the European Commission to stop "picking the pockets" of its citizens - business leaders have urged caution over damaging Britain's at times fraught, but lucrative relationship with the continent.
"Whilst looking for new partners, we must not forget old friends. Europe, however challenged, remains home for half our exports," said CBI president Sir Roger Carr.
"It's like many relationships - can't live with you, can't live without you - but somehow the partnership survives.
"Whatever the popular appeal may be of withdrawal, businessmen and politicians must keep a bridge firmly in place.
"As countries of Europe bind together in pursuit of salvation - we in the UK must work harder to avoid the risks of isolation."
Cameron was accused of isolating Britain from decision making in Europe when he vetoed a treaty change that would have set tougher budget and deficit targets for member states, saying it was not in the country's interests to sign up.
He won praise from his party backbenchers and eurosceptic voters for his stand, but drew criticism from others who said Britain's influence in the area had been diminished as a result.
EU referendum
Former Labour prime minister Tony Blair, a keen supporter of the EU who ultimately wanted Britain to join the single currency area within it, had repeatedly promised the country's voters a referendum on its relationship with Europe.
No referendum was ever held, but now Cameron has signalled he is ready to let Britons have their say over Europe after he declared a referendum on the issue as the "cleanest, neatest and simplest way" of settling the debate.
There is speculation that he may make a referendum on the EU the centrepiece in his party's manifesto for the next general election, expected to take place in 2015, as the Tories try to seize full control of government and boot out their staunchly pro-EU Liberal Democrat coalition partners.
---
Follow @shanecroucher