David Cameron jokes he is happy not having to listen to Trump's wire-taps anymore
The former British prime minister made the quip during a visit to Brown University in Rhode Island.
Former British prime minister David Cameron joked about President Donald Trump's wire-tap claims on Monday (20 March) during a speaking event at Brown University in Providence, Rhode Island.
Cameron said he was happy that he no longer had to listen in to Trump's wire-tapped conversations before, assuring the crowd he was merely joking.
The former Conservative party leader, who governed from 2010 until resigning last year following the Brexit referendum, said one of the advantages of leaving office was "I don't have to listen any more to the wire-taps of Donald Trump's conversations." According to Providence Journal, he then deadpanned: "Just to be clear, that's a joke."
The quip comes fresh off the heels of a diplomatic row between the US and the UK, after the White House accused Britain's GCHQ of helping former President Obama to wire-tap Trump's campaign.
The allegation was vehemently denied by GCHQ, which called the allegations "utterly ridiculous".
Whitehall considers the issue resolved after allegedly receiving assurances from US officials that the allegations would not be repeated. Reports claimed that National Security Adviser HR McMaster and White House Press Secretary Sean Spicer apologised for the remarks, but Spicer has publicly denied those reports.
According to the Providence Journal, Cameron also spoke of a recommitment of old values held by the US and UK. The two nations must be "the guardians of freedom, of tolerance, of equality and, yes, of justice. Fight for them and we really will be great again," Cameron said.
The two-time general election winner said he was optimistic that despite the outcomes of the 2016 presidential election and the Brexit vote, the time-honoured values would reign supreme once more.
Cameron spoke on a variety of issues, from immigration to education, to providing aid to other countries in need.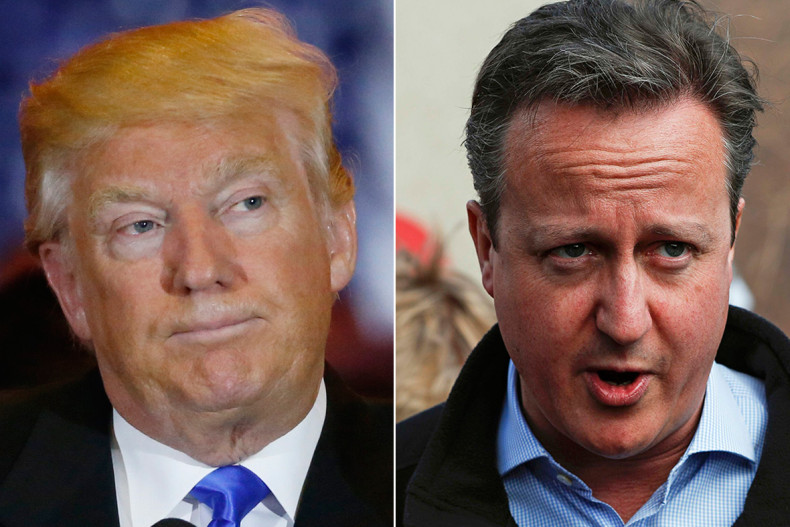 "'Stop the World: I Want to Get Off' might have been a good movie, but it's a hopeless philosophy in a shrinking world," he said, adding, "There is a powerful moral argument that we should love our neighbour, whether at home or the other side of the world."
Cameron also discussed American involvement in Nato, particularly given Russia's aggression towards the Ukraine. "We should treasure Nato, not undermine it," he said. "We won't make America great by making Eastern Europe weaker again."